An Indian Banquet for Your Christmas Celebrations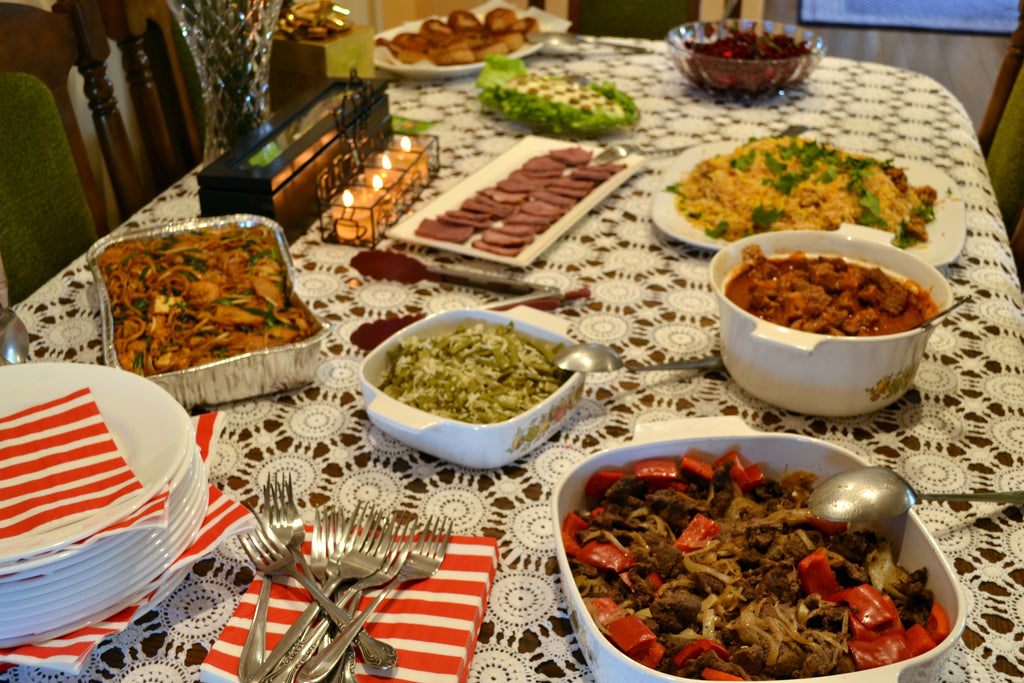 An Indian Banquet for Your Christmas Celebrations


This Christmas why not change your traditional menu for something a little more, let's say, Indian? The richness of certain Indian dishes perfectly encapsulate that Christmas Day feeling of a belly full of food cooked with love.
If going all-out Indian this Christmas is a bit overwhelming, you can always choose to replace your traditional Christmas menu with one or two dishes that are Indian. You are the chef, so you decide!
Entree
Samosas - These are palm-sized cases of either spiced mince or vegetables (usually potato) encased in triangular prism-ed pastry and deep fried. If you or your guests are a little health-conscious and prefer not to 'let loose' during feasting festive seasons, you can always pop the samosas in the oven for a healthier alternative. Click here for a link to our samosa spice blend.
Mains
Chicken Biryani - A dish fit for royalty (see our post on why Biryani is the 'King of Festivities here), Biryani is the perfect main dish for your Christmas banquet and is equivalent to the stuffed roast turkey or grilled lamb chops. Layers of fragrant saffron rice and thick chicken gravy are heaped on and topped with onions and sultanas caramelised in ghee (click here to make your own home-made ghee). We have taken the guesswork out of making this chicken biryani with an easy spice-blend and recipe on the back. Vegetarians and vegans don't have to miss out, you can use some of the spice to flavour your choice of vegetables and make a separate and equally mighty vegetarian biryani on the side!
Pineapple and Cucumber Salad - This recipe is so simple to make and refreshing to eat whilst also being decorative and festive as well. With cucumbers and pineapples being very much in season, you can make a few pineapple bowls to spread along the Christmas table to ensure that no one misses out. Click here for the recipe to our Pineapple and Cucumber Salad.
Beetroot Raita - Raita is a traditional accompaniment to biryani and is said to set off its hot and pungent flavours with sweeter and cooling ones. Our Beetroot Raita recipe can be made using tinned beetroot to save time and will go great with that Chicken Biryani you just served!
Dessert
Pistachio Kulfi - Christmas down under is always warm and nothing beats ice cream as the perfect cool ending to all that degustation. Except of course for Indian ice cream, better known as kulfi. If mention of that name does not make you tingle (the good, romantic kind of tingling as opposed to the kind induced by fear or violent fevers) then perhaps you haven't tasted kulfi as yet? It is creamy and nutty - the perfect combination that will leave you entirely satiated and ready to enter the 'induced food coma' - an all too common predicament for many a guest. Our Pistachio Kulfi is so easy to make that you can grab the ingredients from your local grocery store.
Tea - In case your guests linger on till tea time have this Goan Christmas Cake prepared beforehand to enjoy with some home-brewed chai. Baath is made from coconut and semolina and is slightly crispy on the outside and soft on the inside.
You are guaranteed to have your guests pleasantly surprised with this Indian twist on a traditional Christmas banquet. So go on, have yourself a curry little Christmas now!
---
---