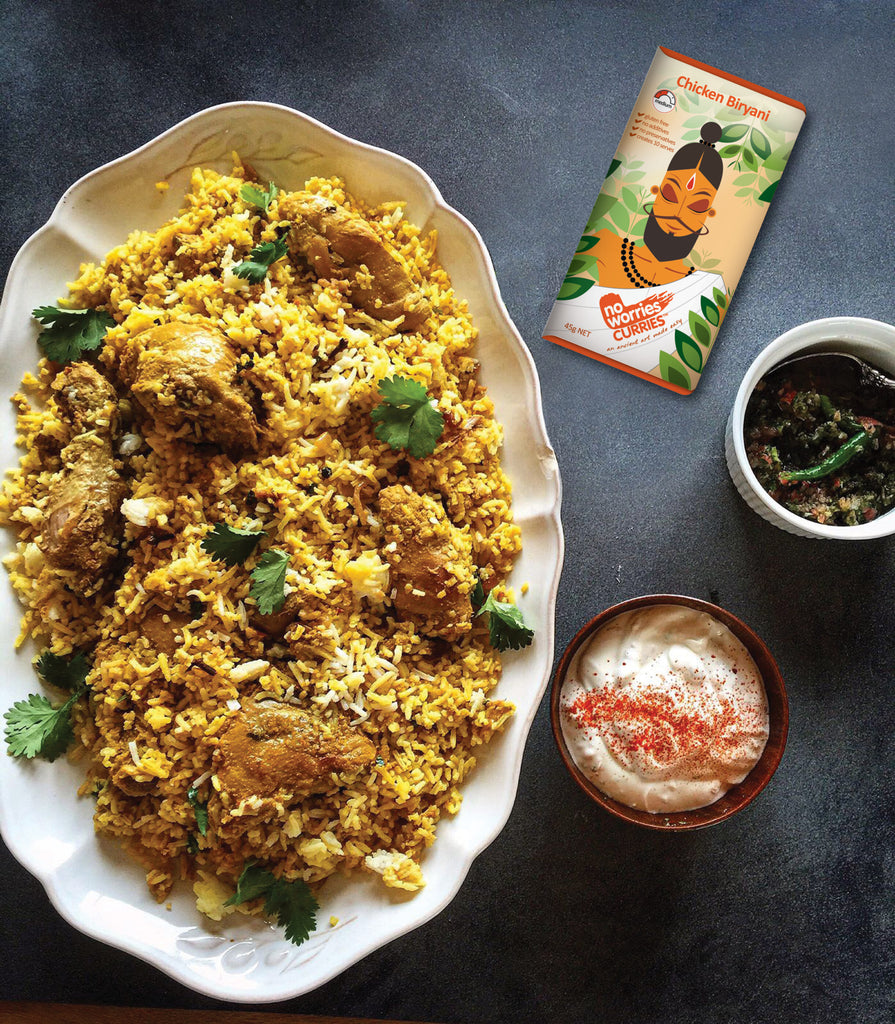 BIRYANI SPICE POWDER
$6.00
murgh biryani
Biryani is a dish synonymous with festivities, celebration and grandeur. It matches the festive mood with its combination of colour, flavour, spice and texture, all wrapped into one pot. A Biryani needs no accompaniment, perhaps only some pickled red onions or a simple raita both of which serve to cut through the richness. 
This dish is not indigenous to India. It was brought over by rulers and travelling merchants from Persia and Arabia. India, being the land of spice, transformed into the salivating versions that we enjoy today with the addition of ingredients and spices native to the different regions. 
In the Western world, Biryani has evolved somewhat homogeneously, whereas in India, it has adapted to the customs and flavours of the locality to which it was brought. Coastal biryanis substitute seafood in the place of meat. Lucknowi biryanis are milder in texture and flavour as a broth is made from the meat and spices. In Calcutta biryanis incorporate potatoes and Hyderbadi biryanis are fiery and pack a punch. 
The traditional preparation of Biryani is a long drawn out process. One must first marinate the meat in a mixture of delicately balanced spices and yoghurt - this tenderises the meat whilst it also absorbs the flavours of spice. The long-grained rice is cooked separately in ghee and whole spices. Then in a handi (traditional pot), the rice and meat are added in layers and the lid is sealed with dough before it is cooked on a coal fire*. The steam created from this method acts to tenderise the spiced meat and release its juices which in turn flavours the rice. A garnish of ghee-browned onions, cashews and sultanas adds texture and a delicate touch of sweetness to complete this dish.   
Our blend is influenced by the Nizams of Hyderabad. The spices we have used in our Murgh Biryani are the rich warming spices of Garam Masala - think the floral notes of green cardamom, the smoky scent of black cardamom, tongues of mace and the seduction of cinnamon combined with cloves.
We have dedicated an entirely separate post to Biryani, but to get you started, why not try making this dish from home with all the grandeur and minus the fuss. 
*Since we are long past coal fires and cooking the meat together with raw rice is dicy (one might undercook whilst the other overcooks), our recipe uses the Lasagne method where cooked meat and rice are layered then put into a hot oven to allow the flavours of one to enhance the other.
vegetarian version
Replace chicken with mixed veggies like cauliflower, peas and potatoes.
shopping list:
fresh
1 lemon
2 kg chopped chicken thighs
250 g tomatoes
5 stalks fresh coriander leaves
5 stalks fresh mint leaves
4 green chillies (optional)
3 boiled eggs (for garnish)
pantry
oil or ghee
4 large onions
1 tablespoon crushed garlic
1 tablespoon crushed ginger
1 cup raw cashews
5 cups (1 kg) basmati rice
Ingredients from nature's medicine chest:  100% spice (no additives or preservatives)