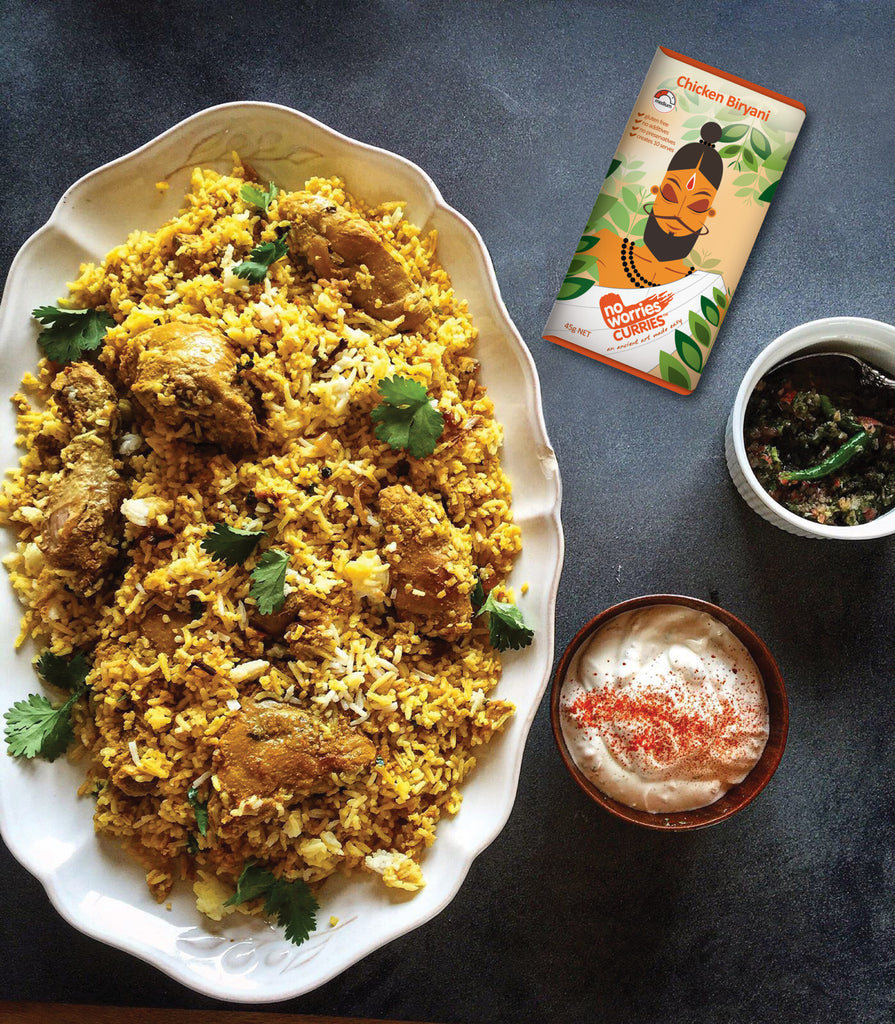 The Signs of Festivities
 As a child growing up, you would be familiar with the sights, sounds, tastes and smells that certain festivals bring. Whether it be sound of popping champagne on New Years Eve or the smell of turkey roasting in the oven on Christmas Day - each celebration was a feast for our sensory organs. Heck, even the smell of grandma's gloriously decadent butter cake baking in the oven prompted aggressive rumbles from the awakened beast that our stomachs can be. For a child growing up in an Indian household, the smell of Biryani wafting through the house was enough to get my nose on a high! I suddenly resembled my dog, sniffing the air in a most thorough manner so as to consume the delightful aromas passing by. My father prepared biryani only for special occasions like birthdays or anniversaries - partly because it can be quite time-consuming if made the traditional way, but also because he wanted to honour the dish's celebratory purpose.
Biryani's History
 When examining the historical accounts pertaining to this delightful dish, one realises that it cannot be accurately traced back to a single point of origin. The Persian word 'birian' means 'fried before cooking', and hence 'biriyani' is said to have originated as a Persian dish. The Mughal invaders originating from Turkey, Persia and Arabia were said to have brought the 'feast-like' culture to India, including the acclaimed variations of biryani. Another tale tells of Mumtaz Mahal, the queen of Shah Jahan and the reason for the majestic Taj Mahal's existence, who upon visiting the army barracks, noticed that the Mughal soldiers appeared weak and under-nourished. She advised the chef to prepare something more filling, that would meet the nutrition requirements of their protectors - and so he made biryani. With such varied accounts, it is hard to pinpoint when, where and how this celebrated dish originated. Needless to say, I certainly appreciate the respected chefs of our ancestors for coming up with this culinary creation. Mine and your tastebuds are blessed to have savoured the deliciousness that is biryani.
Layers of Joy
 For those of you who may not be entirely familiar with the contents of a biryani, rest assured, I have you covered in this section. There is no one such recipe for biryani; it can be made with a variety of spices, proteins and even vegetables. One essential ingredient is rice - which forms the base of the dish. Spices are then combined with specific proteins such as seafood, chicken and mutton or with vegetables to create a flavoursome mix to add to the rice. If you want to know more about the variations and styles of biryani, and get more of a historical perspective, have a read of this article from The Better India.
 My dad prepares biryani as an act of labourious love. He starts by marinating the meat with spices and yoghurt overnight. The next day he makes the plain rice, often cooked with spices like cardamon and clove to give it a most beautiful fragrance. As a garnish, he fries in ghee (clarified butter, or better put, liquified and tasty gold) raisins and then onions. Then he slow-cooks the meat with more onions and spices until a thick gravy is formed. It then becomes a matter of assembling; he will line the base with rice, then meat, then rice and then meat and repeat this process until the pot is filled. Lastly, he adds the garnish of raisins and onion and ends up with a finished product like you see in the image below. Biryani is often accompanied with raita - a fresh yoghurt dish that has some subtle spices and raw tomatoes, onions and cucumber finely chopped and added to it. All in all, it may have taken my dad two days to prepare this dish, but I devoured my plate in under five minutes. Fortunately, biryani is made in large quantities, and so you can have left-overs for dinner the next night, or for lunch, hey, maybe even breakfast (no shame folks, no shame).
Call to Action
I do not apologise if this post has prompted ceaseless salivating. Indeed it has had this effect on the writer, who is now wiping the corners of her mouth before anyone passes by and wonders exactly what on earth she is doing salivating with no food in sight. However, I may have an appropriate panacea to your craving. I exhort you to either: 
Jump on the next immediate plane to the Indian subcontinent and go on a biryani crawl in order to experience the variations of this dish. That would mean Kashmiri biryani from the north right down to Kerala-style biryani in the south. You may want to consider taking three to four months of leave before you do this.

If No. 1 isn't feasible, then head to your nearest Indian restaurant to order biryani.

If you're feeling a little more creative than what No.2 requires you to do, or have family members and/or friends with food intolerances, why not make this magical dish yourself? No Worries Curries can help you out with their mix of naturally blended spices to make a mean

Chicken Biryani

(or an equally mean vegetarian variation) that will have your family, friends, guests or neighbours begging for more.
Now what was I doing before writing this? Ah, yes. Eating biryani.