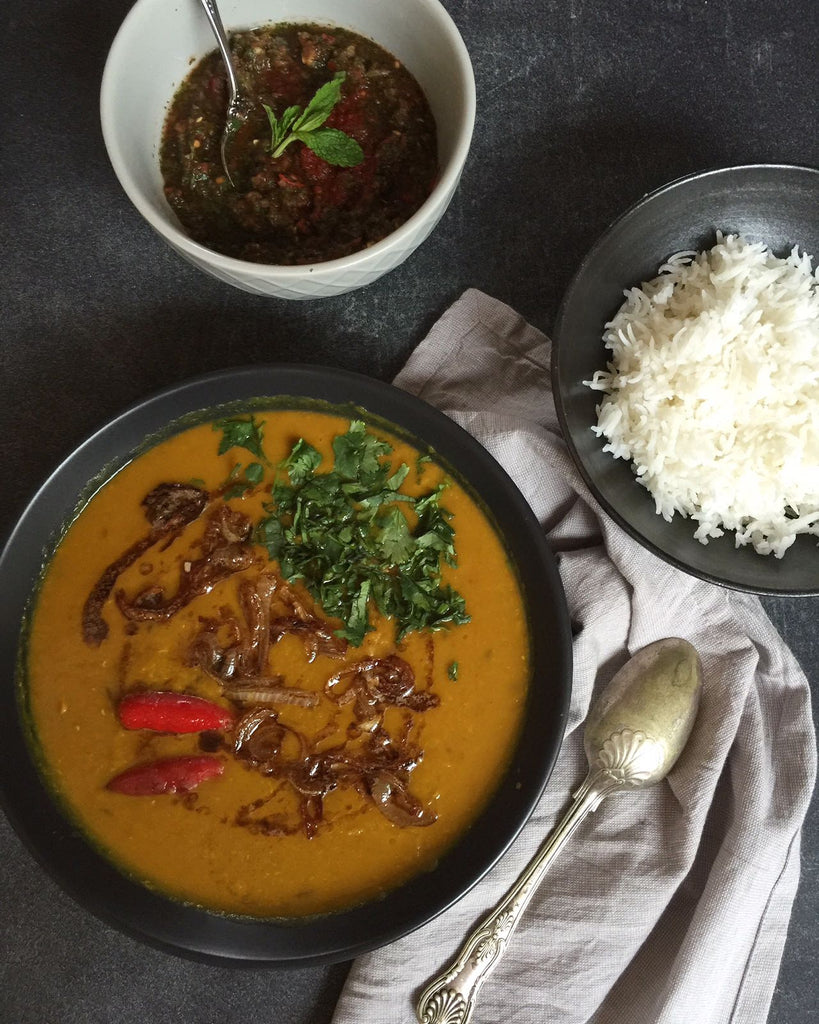 With today's mantra of eat more plant food we see posh fruit and juice parlours sprouting around. Instagram is lush with tantalising pictures of luscious fruit and vibrant vegetables arranged in all manner of aesthetics by raw food enthusiasts.  But fruit and vegetables are not the only plant food we can enjoy.  Let's take a look at what replaces a steak on an Indian plate - pulses.
With 47% of Indians following a vegetarian (lacto-ovo) diet there are a whole variety of pulses included in every meal.  They are cheap but provide high nutrition and the protein component in meals for millions.  Pulses are eaten at each meal both in sweet and savoury recipes.  In many Indian households lunch or dinner would consist of a dhal, a bean dish, 2 seasonal vegetables, rice and or chappati accompanied by pickle, papadums and a sweet dish.
Dhal for most Indians is synonymous with soul food.  A hot steaming bowl of dhal and some rice/roti to accompany it and you have a satisfying meal in minutes.  There are several varieties of Dhals and we will endeavour to explain some of them.
URAD (black coloured lentils) are black in colour and about the same shape and size as moong beans. They are highly nutritious and recommended for diabetics as are other pulses. Only needs washing before cooking.
CHANA (yellow split-pea lentils) have a deep yellow colour and look like the halves of a chick-pea, only smaller in size. They take a long time to cook and hence are perfect for use in a slow cooker. Need to be soaked to reduce cooking time.
MASOOR (orange coloured lentils) are most commonly used in many homes. They take the shortest time to cook and are excellent for quick meals. Wash thoroughly till the water runs clear.
MOONG (green coloured lentils) are easy to digest hence they are prepared for children. They are also used in sweet dishes like in the south (Godsheh in Goa and Vorn in Mangalore) and in the north (Moong Dal Halwa) – which is reminiscent of the Chinese Moon Cake.
The six major pulse groups grown in Australia are: Broad Beans, Chickpea, Field Peas, Lentils, Lupin and Mungbean.  Pulses are universally recommended as part of a healthy eating plan and feature prominently in some of the world's healthiest diets such as the Mediterranean diet.  So feel positively pulsed and enjoy these easy recipes, which we have hyperlinked below: