Indian Street Food - The Healthy Edition*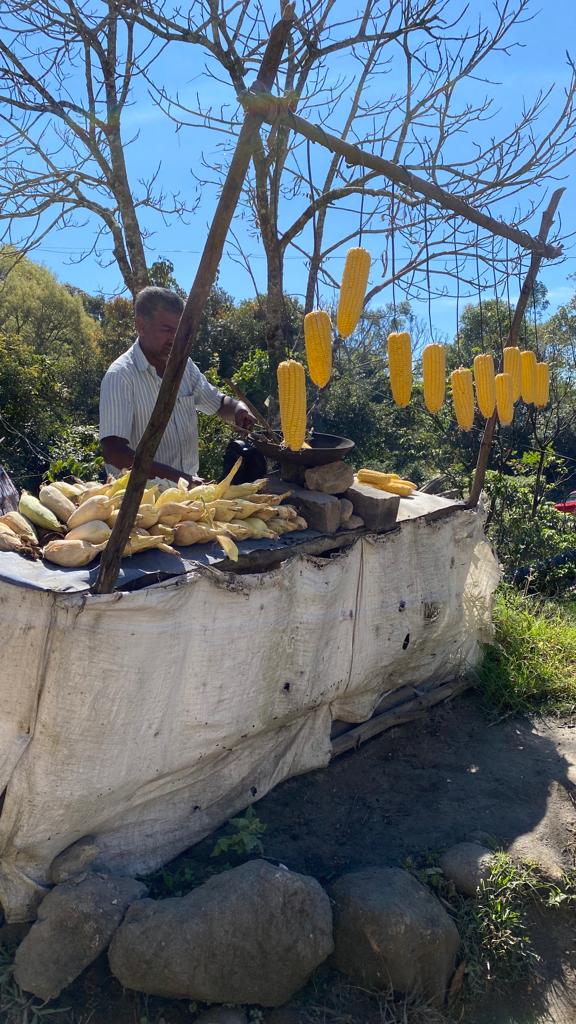 Feature Image: A street vendor in Kerala sells roasted corn 
I have visited many cafes, restaurants and dhabas (highway eateries) throughout India but my favourite place to enjoy a quick meal or snack is from a humble street vendor and their small cart. There is something very grounding about the one-on-one connection between you and the vendor with nothing in between you both save for the cart, the giant tava or the roasting pot.  
In most cases, the vendor prepares the food right before your eyes as you carefully instruct them on how to customise the dish to your liking (add more chilli, or, in my case, less), wary of the fact that there are several others around you impatiently waiting their turn. 
I have written about the vast array of street food in India and today's post is somewhat an extension of that, with a focus on the 'healthier' but equally delicious options. 
Roasted Corn (bhutta) - the street vendors roast the covered corn over the fire and peel away the husks almost to the end. They dip a half cut

nimboo

(small lime) into a bowl of salt and then chilli powder and use it as a brush to evenly coat the slightly blackened corn. With your hand firmly holding onto the husks like a lollipop stick, you bite into the warm corn, the flecks of salt, chilli and drops of lime intermingle on your lips and tongue for a show stopping performance. Who could have thought that corn could be so sexy?


Image: Homemade bhutta fancily served 



Sweet potato

chaat

 (shakarkandi)- a classic wintertime snack that is filling and warming. The street vendor roasts the sweet potato on coal before peeling and cubing it and serving it with liberal sprinkles of

chaat masala

and lemon.


Image: Shakarkandi chaat by @_adeliciousmeal


Fruit Chaat - summertime fruits like papaya, mango, watermelon are cubed and mixed together with lemon and chaat masala. Are you noticing a trend here with these street foods? Chaat and lemon are magic ingredients when added to pretty much anything!


Image: watermelon slices with a sprinkle of chaat 


Cucumber with salt and chilli - a really simple snack that is refreshing for those scorching summer days. The high water content in cucumbers means you can kill two birds with one stone; hunger and hydration. 



Water chestnuts (

singhara

) - An aquatic tuber vegetable that is commonly sold by street vendors during the cooler seasons. You can enjoy these simply boiled or made into a chaat and topped with fresh ginger, coriander, chilli powder and lemon. 


Image: Roasted water chestnuts by @food_addict1001

Which one would you like to try? Comment below and let us know!
*But equally delicious 
---
---