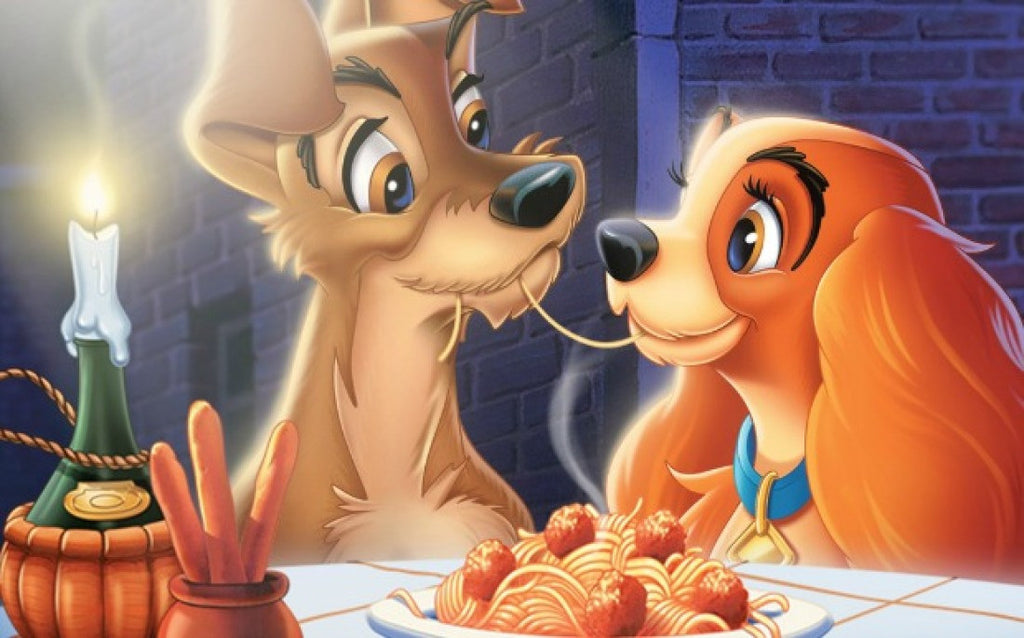 A typical image that comes to my mind when I think of 'romantic cuisine' is that scene from the Disney classic Lady and The Tramp, where the two dogs share a plate of spaghetti bolognese and unknowingly chew on the same strand until they accidentally kiss (I secretly longed for this to happen in my previous relationships but always forgot to order spaghetti when on dates. I also find spaghetti hard to share because it is one of my favourite dishes and I tend to devour it all). Another is the classic red and white checkered blanket spread across a green lawn. The blanket contains a spread of baguette, cheese and wine. French and Italian cuisines have no doubt provided us with many-a-romantic meal to share with our better halves but what other dishes can inspire romance?
As Valentine's day approaches, I challenge you to broaden your perception of romantic cuisine by cooking none other than Indian food for your special date/partner/friend.. Here are our top five picks (in random order) for you to try out this Valentine's Day. These are commonly available dishes in most vegetarian restaurants.
Nothing screams romantic like 'Pani Puri'. This popular street food provides textural sensation; the crunch of the puri shell, the spicy water that floods the mouth and the pungent flavour of the raw onions. In true couple style, you can take turns feeding each other pani puri.


Why not share a South Indian Vegetarian Thali

with your valentine? Thalis are great because of the variety they offer; rice and roti, sambhar/dahl (lentil curries) and rasam (a spicy, watery soup with tamarind as its base), 2-3 different spiced vegetables, papad and fresh yoghurt. This is just in

one serve

! Get your fingers messy as they dip, dunk and scoop out all the deliciousness on offer.


Nothing spells love as much as butter does and the dish Pav Bhaji is a testament to that love. 'Pav' means bread and 'bhaji' means vegetables fried in spices. What makes this dish extra delicious is the fact that the main vegetables (potato, peas, carrots, cauliflower and french beans) are first boiled in water so that they become mushy. They are then mashed and added to a mix of onions, tomatoes, capsicum and spices all sautéed with butter forming a thick, rich gravy that is dark orange in colour. Basically, knobs of butter are added in the beginning, middle and end stages of the cooking. This is gravy is scooped up with soft, buttered (of course) bread which you and your partner can devour. Licking of fingers post eating is mandatory and your valentine will be nothing short of delighted at the time spent preparing this dish (it is time-consuming). For time is love is not?


Gulab Jamun and Vanilla Ice Cream is without doubt the best Indian dessert to share with your valentine. This sweet treat is made from milk solids which are deep fried and soaked in a sugary syrup spiced with whole cardamom pods. They are usually served hot with a scoop of vanilla ice-cream. The temperature contrast of hot and cold and the textural contrast of moistness and creamy awaken the palate's senses. Of course if you are a die-hard gulab jamun fan like I am and find the thought of sharing one bowl a little restrictive, you may always order two bowls at the outset to make it crystal clear to your valentine that this is a dessert best enjoyed individually at the same time, rather than shared.


Another dessert is featured in this list because what would Valentine's Day be without a little extra sweetness? Falooda

is a colourful dessert cum beverage delight that will surely please your date. It is akin to a thick-shake but filled with vermicelli, basil seeds, chunks of jelly, milk, rose syrup and of course, ice-cream all mixed together and served in a tall glass. If this mere description itself does not fill you up, then you can imagine what the real dessert will be like. That is why Falooda is the ideal dessert to share with your loved one. Ask for an extra straw and spoon (to scoop up all that sweet, sweet goodness).
No matter whom you choose to celebrate Valentine's Day with, we hope it will be in spicy company!
Image Source: www.mentalfloss.com
By Conchita A. de Souza