A Detailed Exploration of Indian Breads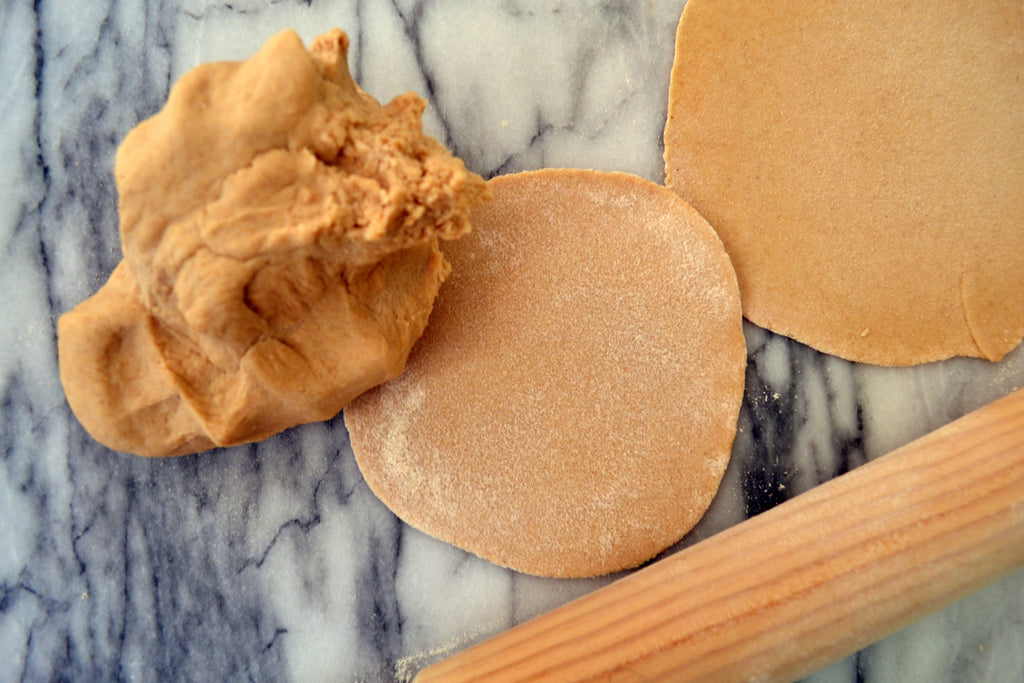 A Detailed Exploration of Indian Breads
Next time you go to an Indian restaurant, pay heed to the bread section of the menu which probably consists of the classic naan or staple roti. However, limiting the plethora of Indian breads to merely 'naan' or 'roti' is akin to limiting cheese to just cheddar or gouda - there is just so much more where all that came from!
 The breads have been categorised according to how they are cooked; (1) made on the tava, which is a griddle made from cast iron, steel or aluminium, (2) made in the tandoor (an Indian oven), (3) deep-fried and (4) south Indian style, because these breads are made with a combination of methods 1, 2 and 3, and often consist of ground lentils that make up part of the dough. The list of breads below is certainly not exhaustive - a testament to the impressive variety India boasts in the form of bread!
Breads made on a tava 
Roti/Chapatti - The most basic of breads and a staple in the north of India. Roti is made from 2 ingredients; atta (whole wheat flour) and water. It is then knead to form a dough which is flattened with a rolling pin and rolled out into a perfect circle about 1cm in thickness. The roti is then cooked by the tava on both sides, before it is cooked on the naked flame in order for it to puff and become soft like cotton.





Roti has many avatars and includes the famous Rumali Roti (made from white flour and folded up like a handkerchief, rumal actually means handkerchief); Makki di Roti which is made from cornflour and as a result, bright yellow in colour; and Ragi Roti made from the course finger millet flour and often containing onions and coriander. Click here for our simple roti recipe.





Paratah - A fried flatbread that is heavier than roti due to the presence of ghee (unclarified butter) or oil. The process for making paratah is the same as that of making roti up until it has been rolled out into a flat circle. Then the back of a spoon is usually dipped in ghee/oil and spread onto the circle, which is neatly folded into a square or triangle and then rolled out again. Whilst cooking the paratah on the tava, ghee/oil is added on both sides to give it a golden finish.





Paratahs can be stuffed with almost anything - potato, paneer, onions, radish and fresh fenugreek are some of the popular fillings that are either mixed in with the dough or stuffed into it for a delicious and satisfying meal. Click here for our stuffed paratah recipe.
Breads made in the tandoor
Naan - This leavened bread is surprisingly not consumed as much in the home as it is in restaurants. Naan is said to have originated in Persia where the word 'nan' means 'bread'. It can be prepared with milk or yoghurt which alters the taste of the naan and contributes towards it being softer in texture. It is usually prepared in a tandoor, a cylindrical oven made of clay or metal and powered by good ol' fire. Sometimes stuffed with cheese or potato (or heck, why not a bit of both!), naan can be eaten on its own but usually serves to soak up thicker and richer curries.





Kulcha - This bread is similar to naan in appearance and texture and hails from the north Indian state of Punjab. It can be stuffed with minced mutton or used to mop up a spicy chickpea curry ('chole').
Breads deep-fried
Did y'all just read 'breads deep-fried'? Bread on its own is a treat but now y'all talking about deep-frying it? Yes. And we are pretty darn serious about that too.
Puri - These little pockets of joy can be made from whole wheat flour (atta), refined wheat flour (maida) or coarse wheat flour (sooji). Fried in oil or ghee, puris are popular as breakfast or as a snack. During festivals and special occasions, puris are brought out for offering as well as for serving because they can be cooked fast and in bulk! Sometimes, a pinch of cumin seeds is added to the dough which gives the puris an extra crunch and slight charred taste. (Can't think of a better way to describe this). Puris are served with a vegetable on the side ('bhaji') and go magnificently well with chickpeas ('channa'), potato-based curries and even sweet dishes like halwa.





Bathoora - Larger cousin to the puri as it is 3 times its size. This bread is made from white flour that becomes crispy and flaky at the same time once fried. This bread has always reminded me of a puffer fish because when fried it puffs to the size of a puffer fish until one uses their index finger to poke and deflate it for normal consumption. Trick is to not burn your finger because the bread is darn hot! Bathoora cannot be consumed without its counterpart chole (chickpeas), which is made into a spicy and tantalising gravy in which the Bathoora is dipped.





Kachori - This bread is cooked in a very similar way to puri, with the added glory of it being stuffed with a spicy, crumbly and flavoursome lentil filling. Kachori is a very popular street food and served with a spicy green coriander chutney or a sweet and sour tamarind chutney.
South Indian breads
Think healthy, filling, flat breads made from the superfood - lentils! That's right, we are such a lentil-loving nation that we make our breads with lentils too! Below are some of the more popular South Indian breads.
Idli - With its resemblance to a steamed rice cake, Idlis are a staple in most south Indian homes. They are made from a batter of ground rice and fermented black lentils which are then steamed in a set of 3-4 circular muffin-like trays enclosed in a steel/aluminium case. Idli goes well with the famous sambar - a vegetable stew with coconut as its base, and in restaurants and homes is always accompanied by two chutneys; a coriander and coconut chutney and a chilli and coconut chutney.





Those hailing from the western state of Goa have their own version of Idli which they call Sana. These rice cakes are heavier than Idlis because of the presence of coconut in them and are thoroughly enjoyed with sorpotel - a spicy, vinegary pork curry.





Dosa - Dosas are to south Indians what Roti is to north Indians - a staple in the home. Dosa is similar to a crepe, only crispier and made from a batter of rice and black lentils. Dosa, like Idli is also accompanied with sambar and chutneys. There are different varieties of dosas to suit your personality and taste; masala dosa is dosa stuffed with a spicy mix of potato and onions, rava dosa is even crispier with the batter containing onions and cumin seeds and neer dosa is made from rice that has been soaked in and ground with water.





Appam - This bread resembles a pancake with the centre rising ever so elegantly to form a soft dome that has a sponge-like consistency. Like its south Indian  counterparts, Appam is made from fermented rice batter and the ever-so-vital liquid that runs through the veins of South Indians - coconut milk.
Have we forgotten to mention any of your favourite Indian breads? Comment below and let us know!
---
---