The Tadka (Tempering) Element in Indian Cuisine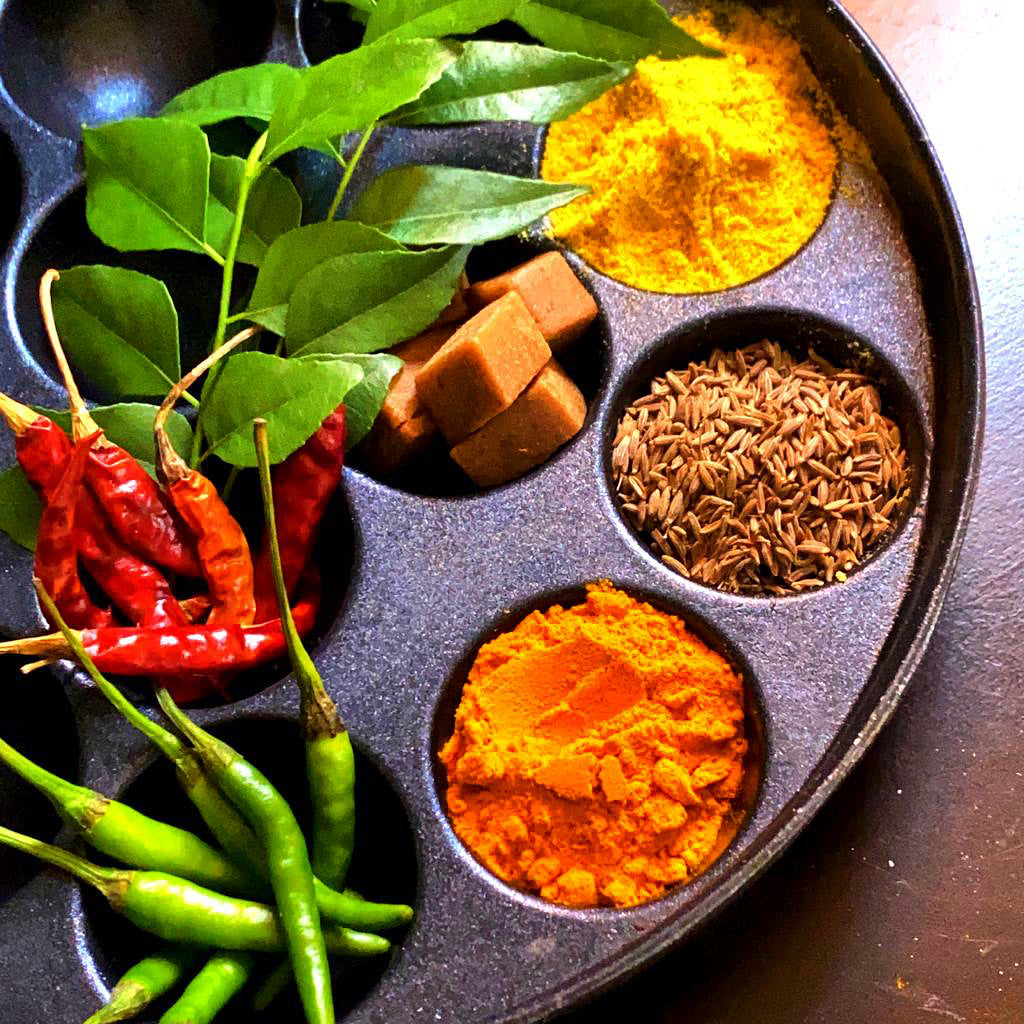 In our last post, we talked about the different oils that are used in Indian Cuisine. We explained how the selection of oil depends primarily on two factors (1) the dish itself consisting of the ingredients used and (2) the method of cooking used (sauteing, tempering, deep-frying). 
This post examines another key component of Indian Cuisine - the tadka or tarka (also goes by the names chhonk, baghaar, phoron). The word tadka might sound familiar to you as many Indian restaurants have adopted it in their menu listings but also as their restaurant name. The method is seen all across India but varies according to the regions, thereby making it a unifying element in Indian cooking.  
Tadka is a cooking technique in which whole spices and fresh ingredients (think curry leaves, ginger, garlic, green chilli and onion) are tempered in hot oil releasing their essential oils and creating a more aromatic and flavoursome dish. Nik Sharma, molecular biologist turned cookbook author, describes tadka as "a heat-based, flavor infusion technique that relies on fat as a flavour-delivery vehicle". 
Tadka can be done at the beginning of preparing a dish as a foundation or at the end, almost like a garnish, but more flavourful. The former method allows for the tadka flavours to be infused with the other elements of the dish, be they lentils, meat or vegetables. The latter method packs more of a punch because it is added at the end, and so the flavours are fresher and only mildly affected by the presence of the other ingredients in the dish. 
Why tadka?
A common method of preservation of a spice's flavour is to dry out spices in low heat.  This process 'freezes' the flavours until they are re-heated, allowing the flavour molecules to come back to life.
Adding spices to hot oil ensures the release of any essential oils contained within the spice which holds all the flavour. That's why many whole spices are not consumed raw because they can taste very potent if not exposed to heat.  
The Elements of Tadka 
A tadka almost always consists of oil or ghee, and whole spices. The combination of spices used depends both on the dish being prepared as well as the region in which it is being prepared. 
For example, a tadka for a simple dhal will most often involve both cumin or mustard seeds hing (asafoetida) which aids digestion. Then for some heat, green or dried chillies are added.  
Lentils

-  South Indians use a teaspoon of channa and/or urid dhals in their

tadkas

for crunch, especially over chutneys. 

Whole Spices

- Usually cumin, fenugreek and mustard seeds, with dry chillies.

Leaves

- Bay leaves (in the North) and Curry leaves (in the South) are popular additions. 

Seeds & nuts

- Cashews and almonds can be added to ghee before garnishing a biryani, and peanuts are used in the

tadka

preparation of Lemon Rice. 

Ginger, garlic, onion

- Better known as the holy trinity of Indian cooking, these ingredients are especially used in foundation tadkas. 
Common Dishes Using Tadka 
Dhals
Dhal is a staple for many in India and epitomises the concept of 'comfort food' because it is served regularly and craved for when home sick.  It is simple to prepare and goes well with both
roti
and rice. The tadka element transforms the taste of this dish, especially when added at the end as the tempered spices bring life to the dhal. 
The image below is of a typical South Indian tadka, using curry leaves, mustard seeds and dried red chillis to garnish the dhal. 
If you are new to cooking Indian food, try out our Jeera Tadka Dhal which is an absolute classic.  
Rices
Jeera Rice, Lemon Rice, Curd Rice, Tamarind Rice and Biryanis all use the tadka method to enhance the flavours of the dish.
Tamarind rice (Bise Bele Baath), from the state of Karnataka in the South of India, uses dry coconut and sesame seeds in its tadka to balance against the sourness of tamarind. 
Curd rice (one of our favourites) is also from the South and a popular summer dish that is both cooling and filling and you can get the recipe here.   
Vegetables 
The image below is of a Bengali dish (Doi Begun which literally translates to Yoghurt Aubergines). The crunch and slight bitterness of the cumin seeds adds layers of texture and flavour to the soft aubergines and the tangy, cooling curd. 
Chutneys - Like coconut chutneys served in South Indian cuisine. 
How to prepare a Tadka
Heat the oil/ghee to a temperature - you can test by adding a single mustard seed.  If it sizzles, the oil is hot enough.

Add the mustard/cumin seeds and any other large spices like cardamom, cloves or cinnamon.

When the mustard seed pops, add the chillies and asafoetida, garlic, ginger and any other ingredients.  You only need a few seconds at this stage - watch the garlic as it burns easily.

Switch off the heat and then add curry leaves, turmeric powder or chilli flakes.  The residual heat is enough for them to release their flavour.   
Now that you know a little more about the importance tadka plays in defining Indian cuisine, we hope that you will be more willing to try it out. 
We would love for you to comment below and let us know about some of your favourite
tadka
ingredients or your favourite
tadka
dish.
---
---