Vegetarian Samosas (Singharas) - India's Favourite Snack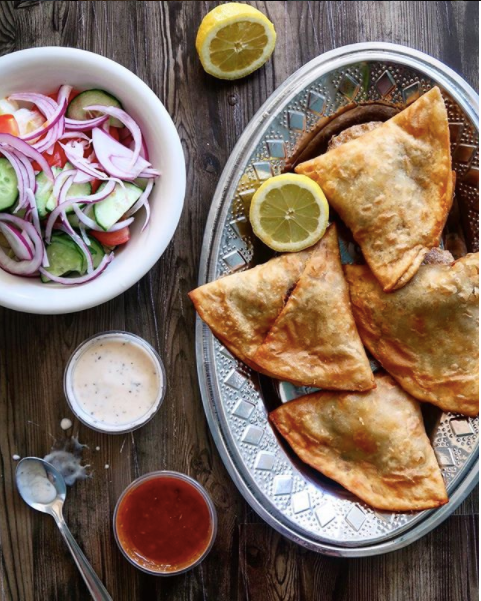 If you have guests coming over, preparing a snack for a picnic lunch or going on a long road trip, nothing beats a stack of India's favourite snack - samosas. A spicy vegetarian filling consisting almost always of potatoes and sometimes other finely chopped veggies like carrots and peas are encased in a thick crusty pastry that is deep fried. Samosas can be made into a chaat dish (mashed up and sprinkled with sweet and sour chutneys, chopped raw onion, bhel [fried potato noodles] and lemon) or just enjoyed on their own with a side of sauces. 
With each region preparing these little packages of delight in their own different ways, every samosa will have its own unique flavour and shape. In the South of India they are made like crescents much like the Malaysian curry puffs.  In the North they are triangular like the Singharas in the picture below. In the Mogul and Nizam-influenced parts of India, the samosas are filled with spiced mince meat.
Make the filling in advance and freeze so that all you have to do is prepare the pastry and fry, or even bake in the oven, if you want to spare the mess of deep-frying. We promise you this - eating one samosa is impossible. Once you've downed one, you will already be hungry for the next!
Here is our recipe to make your very own authentic Indian samosas. 
FILLING:  Follow the recipe for the filling of the Samosas from the back of our Baked Samosas.  
PASTRY:   Makes 24
Sift 2 cups plain flour into a mixing bowl.
Stir in 1 teaspoon Ajwain (carom seeds) – this spicy seed adds some oomph to the pastry but is totally optional.
Rub in 2 tablespoons ghee till the mixture resembles fine bread crumbs.
Mix together 1 teaspoon sea salt with ½ cup water.
Add the warm water a little at a time.
Knead lightly to form a ball.
Cover with a damp cloth and leave to rise for about 45 minutes.
Divide the dough into 12 portions
Knead each into a ball
Roll out into a 5-inch (12 cm) circle.
Cut each circle in half.
Wet, and then seal the straight edges together.
You now have a shallow cone which you can fill – 3/4ths full only.
Wet, and then seal the top by pinching the edges.
Repeat the process till you have used all the dough and filling.
Fill a deep fryer with oil and heat to 180°C / 350°F
Deep fry the Singharas till they are golden brown
Place on a wire rack
Serve warm, with any tangy sauce.
If you are in a hurry, you can use store bought pastry and use this recipe:  
PASTRY:  Use filo pastry (2 sheets together) or puff pastry as follows
Heat oven to 200°C
Line a baking tray with baking paper
Place one of the pastry sheets onto a floured surface
Cut into 4 squares
Place a tablespoon of mixture on one half of one of the square in a triangle shape
Spray lightly with water then press edges together to form a triangle
Seal by crimping with a fork
Place the triangle on the prepared baking tray.  Repeat till all the pastry is filled
Brush the samosas with egg wash or milk
Sprinkle sesame or poppy seeds and press in lightly
Bake for 20 - 30 minutes, till golden brown then take the tray out of the oven
Slide the baking paper with the samosas on to a wire rack.  Allow to cool then serve with our coriander pesto or tomato sauce.
---
---