Kerala - A Journey Through God's Own Country (Part 1)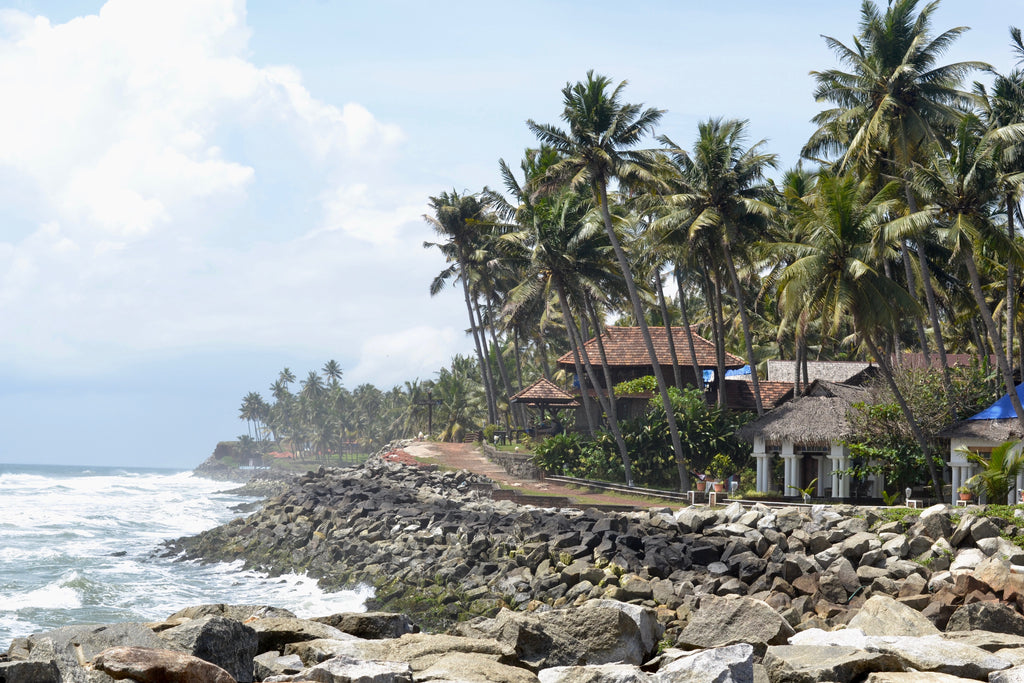 I am gliding along the narrow canals flowing from the backwaters, in a small canoe, being oared by our friendly but pensieve 'captain'. There is a small canopy over our heads to cover us from the harsh afternoon sun, which will eventually cause me an uncomfortable bout of heat rash as I spend the afternoon strolling amongst the villages surrounding our hostel. But I don't know it at the time.
A friend and I were backpacking across the south of Kerala. He had come from Sydney to tour India, and I told him we'd do the south together. Our plan was to visit four different towns/regions in nine days, using local transport as our means for moving. I was excited for this trip, because I knew that Kerala was much like my home state Goa - filled with friendly fisherfolk, delicious seafood and cuisines rich in one of my favourite ingredients - coconut!  Yet the differences were also apparent between these coconut-ty dwellings, especially when looking at language, dress styles and traditions. A familiar flavour, but an entirely different dish - this is how I would explore and experience Kerala.
When my friend and I arrived in the state's capital Thiruvananthapuram, whose name pretty much contains all letters in the alphabet, we set our bags down and headed to the famous Padmanabhaswamy Temple. It is one of the world's richest temples, with jewels and gold, only recently discovered in hidden vaults, valued in the billions. The same day, we took a bus to the famous Kovalam beach, and reached at nightfall. There wasn't enough time to enjoy the beach, but plenty of time to choose from the array of beach-side restaurants serving fresh seafood and beer discreetly served to us because most restaurants did not have adequate licensing. For the remainder of the trip, the means of serving alcohol became more and more 'inventful'. Keep reading for more.
Image by Jared Costa: Kovalam beach by night
The next day was spent travelling to Kerala's neighbouring state - Tamil Nadu. I was determined to visit a town called Kanyakumari, which is on the tip of the Indian peninsula. A Bollywood hit that I liked at the time, also mentioned the name Kanyakumari in its title - reason enough for me to visit this place. After a harrowing 3-hour bus journey, which involved a rickety local bus flying through narrow-laned roads and bouts of endless traffic, we reached our destination. Much to my disappointment, one of the main attractions, an-almost 100 foot tall statue of Saint Thiruvalluvar - a Tamil poet and philosopher, built on a rock island 400m away from the mainland, was being 'treated' against sea breeze erosion, a once in every four year task. This meant that I could only see the saint in all his carved glory, through the scaffold screening. I felt bad that I had dragged my friend on such a long journey to see what ended up being a heap of scaffolding. I was annoyed at myself for not having done better research because the beach town had very little to offer apart from the statue. But such are the challenges faced when travelling. The highlight was a eating lunch at the only fancy vegetarian restaurant that had air conditioning. After spending a couple of hours in Kanyakumari, we waited at a small local bus depot for around 45 minutes, before we hopped on what we hoped was the right bus back to the capital.
Why scaffolding, why?
That same evening, after around 7 hours on a bus back and forth, we were on the move again, taking a local and crowded train late in the evening. I wrongly assumed that a confirmed ticket meant seats, but in 'general' class, it was first come first serve. We boarded the train midway to the final destination, and stood for 45 minutes until we reached the hippy town of Varkala. By this point, I was pretty sure my friend was doubting the success of the rest of the trip, especially seeing as I had planned the entire itinerary and did all of the hotel bookings. You see, we both had different 'styles' of travelling - his was more '5-star' and mine was more 'experience the local'. But Varkala eased those differences; our hotel was comfortable and even classy, with beach views and an awesome cliff-side restaurant that served both local and western cuisines. As the monsoon season was nearing its end, the waters were still rough to swim in, and so most of our time in Varkala was spent eating in the numerous cafes dotted along the cliffside, each sporting their own themes and food specialities. Whenever I am away from home for longer than a few days, I deeply crave 'homemade' food; so I would opt for simple meals like prawn curry and rice, washed down with fresh watermelon juice. My friend, who was missing his homemade food - would opt for more western cuisines, which were readily available due to the town being a tourist haven.
The servings of alcohol became more inconspicuous. My friend, a lover of beer, was politely asked to keep his beer bottle under the table, and at another venue, was served his beer in a tea mug. We had a good laugh about it, because this was a hippy beach town, and clearly everyone was drinking alcohol. But the government of Kerala has recently reviewed its alcohol policy, only allowing it to be served in 3-star and above hotels. Local restaurants and cafes wouldn't meet this threshold, and so would serve it under the table, literally, tipping off local police to keep things hushed.
It was hard saying goodbye to the clffs and coconut trees of Varkala. This laid-back hippy town had charmed us with its picturesque sunsets, quaint cafes and relaxed vibe. Next up was exploring Alleppey, the backwater region of Kerala. To reach there, we had to jump on another local train…
Stay tuned for Part 2 of our journey through Kerala!
---
---