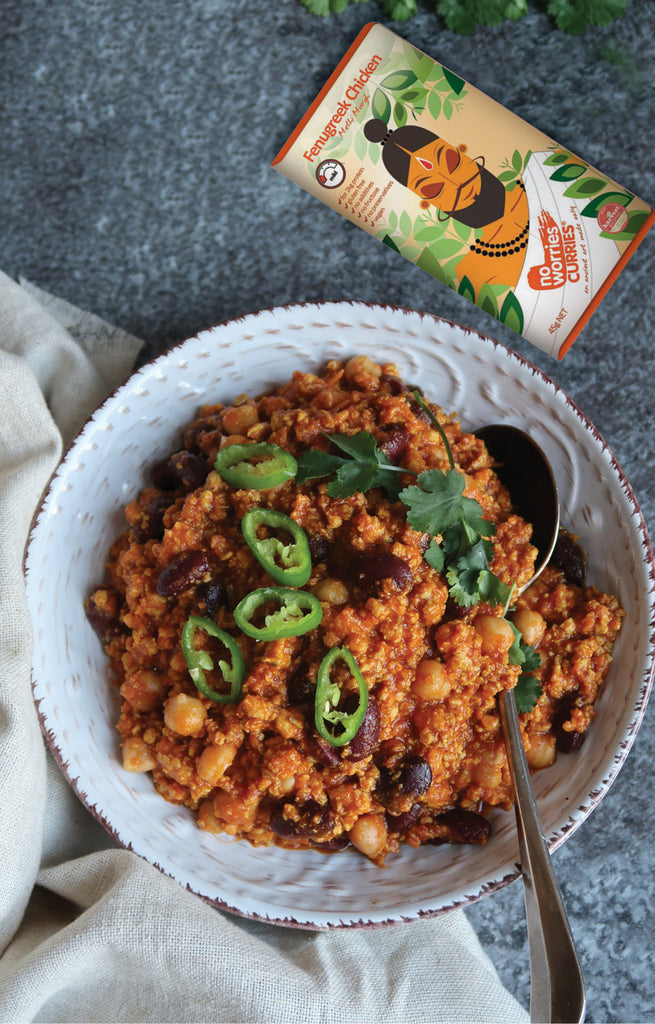 FENUGREEK CHICKEN CURRY spice powder
$6.00
methi murgh
Fenugreek (methi in Hindi) is a powerful plant and when consumed (either fresh, as a dried herb or in seed form) can be quite bitter. In spite of its bitter qualities, it is used in many Indian dishes to bring a contrast in flavour. Fenugreek can be used in so many ways; from curries to chutneys and in teas and sweets.
Methi Murgh has its origins in North Indian cuisine and is also a dish commonly prepared in Hyderabadi homes, where the descendants of the Moghuls once ruled. The marrying of a versatile ingredient like chicken with the fresh and bitter flavour of fenugreek leaves is a match made in heaven. As methi leaves are not readily available at your local grocers (unless you have an Indian grocer nearby), we have used kasuri (dried) methi in our blend. Kasuri methi does have a more concentrated flavour and is therefore used in much smaller quantities than its fresh counterpart. 
Each ingredient in this dish contributes to a flavourful experience with each bite. The sweetness of the caramelised onions, the acidity of the tomatoes and yoghurt, the bitterness of the fenugreek and the  careful combination of fresh and ground spices are assembled to create a dense and creamy dish that does not leave a heavy sensation in your tummy once gobbled up. The souring agents are added after the chicken, allowing it to tenderise and not become rubbery. You are forgiven if you decide to garnish the final product with generous lashings of cream. If you have cooked down the curry, we recommend mopping it up with naan but if you have left it on the watery side, rice is the better accompaniment. 
You can also make this dish with chicken mince (keema).
vegetarian version
Use a combination of spinach, carrots, peas, pumpkin, potatoes and peas to make a hearty stew.  In this picture, we have used Quorn with chickpeas and kidney beans for texture.
shopping list:
fresh
1 kg diced chicken thighs (use half the spice pack)
400 g tomatoes
1/2 cup Greek Yoghurt
coriander leaves (garnish)
pantry
oil
2 onions
salt
garlic
ginger
Ingredients from nature's medicine chest: 
100% spices (no additives or preservatives)