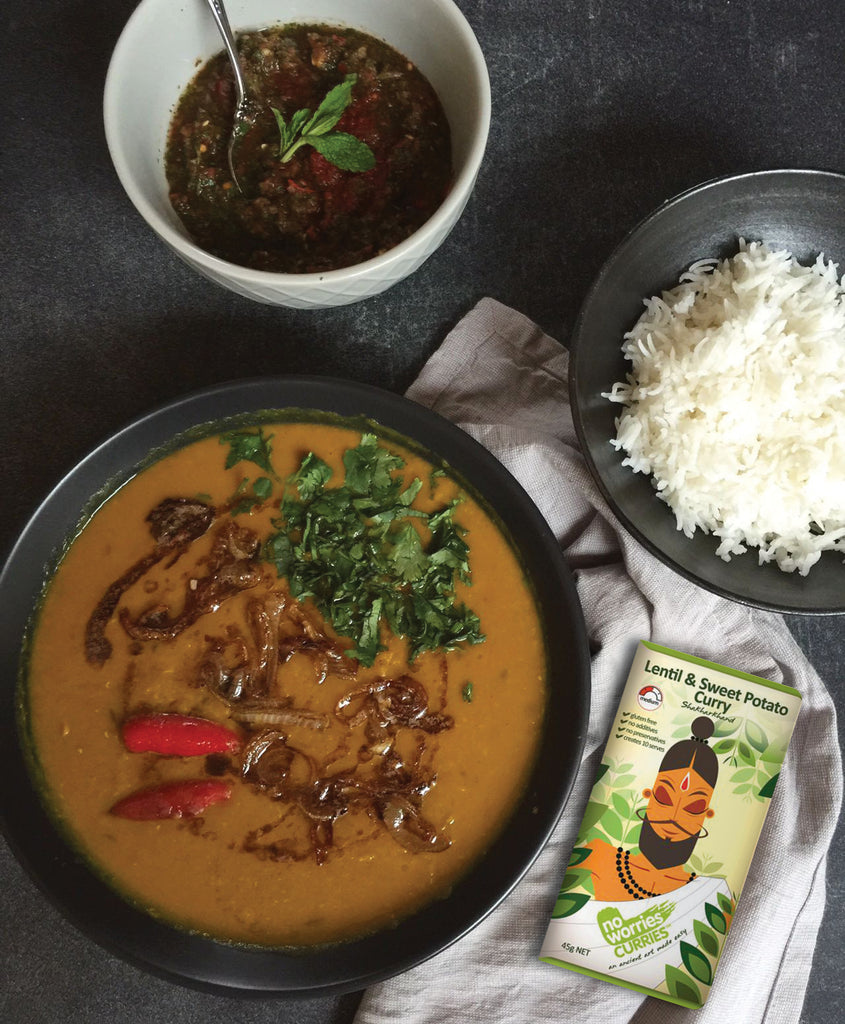 LENTIL & SWEET POTATO CURRY spice powder
$5.00
shakharkhand dhal
LENTIL AND SWEET POTATO CURRY
 

–

 
if ever there was a meld of Indian and Thai that works well with lentils and veggies, this is it.

 It is also our 
most popular spice after Butter Chicken and is a dish akin to a mother's warm embrace after a long time away from home. It is hearty, comforting and a healthy option for dinner, especially on cooler nights. The combination of lentils, which are a great source of fibre and protein, and sweet potato, which is rich in fibre, vitamins and minerals, make it a nourishing meal. This meal is entirely vegan and gluten-free, so it is a good one to have up your sleeves for when you need to attend to different dietary requirements. It also comes together in about half an hour making it handy for the time-poor. 
You can saute the onions, ginger and garlic in any oil of your choice and then fry up the spice gently till the aromas waft and the oil separates. Then add the washed red lentils (which cook faster than most other lentils), cubed sweet potato and some water before letting it simmer away. Once the potatoes have softened, you can add the coconut milk and adjust the seasoning to bring it all together.
The addition of coconut milk is what brings this dish together and creates a creamy texture that sits gently on your palate before dissolving. The cooked lentils, sweet potato and coconut milk unite to create a stew-like density to this curry that you could easily enjoy without any grains. 
Pair this dish with white rice, quinoa or roti and garnish with coriander and roasted cashew nuts. If you are feeling extra peckish, serve it alongside papadams as a side for that extra crunch.
Use the same blend to prepare a spicy four-bean mix. The recipe is found on the inside of the blend. 
vegetarian version
Use our alternative recipe for this spice: 
Spicy 4 Bean Mix 
(printed on inside cover of our new packs).
.
shopping list:
fresh
250 g sweet potato
100 g green beans
200 g corn kernels
2 stalks fresh coriander
pantry
half this spice pack
oil
1 onion
salt
garlic
ginger
1 cup red lentils
400 ml coconut milk
fish sauce (optional)
Ingredients from nature's medicine chest:
100% spices (no additives or preservatives)