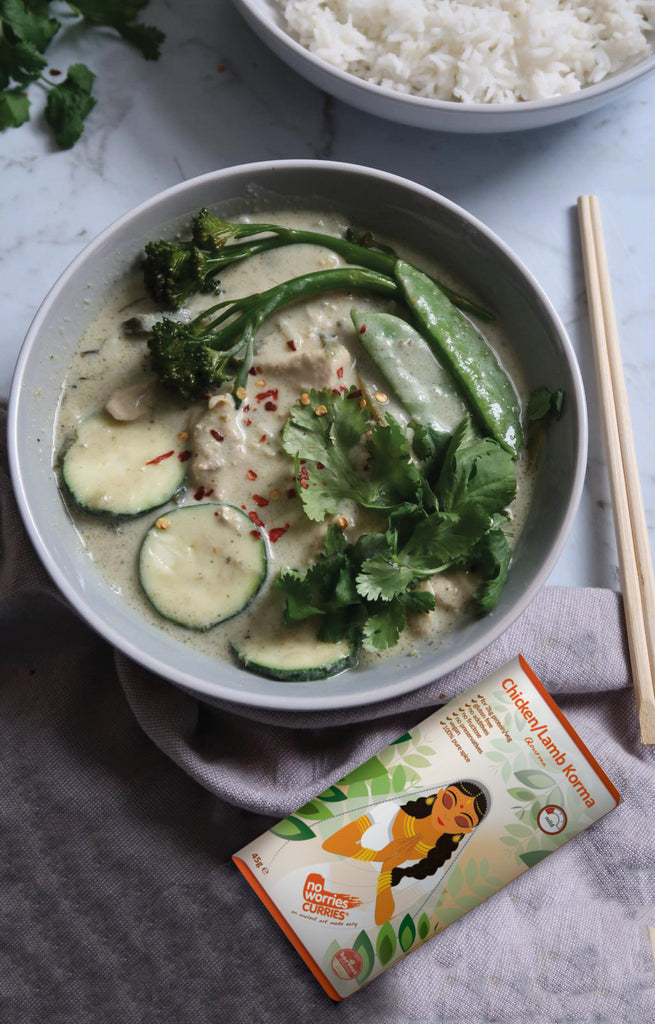 KORMA CURRY spice powder
$5.00
murgh qourma
Korma  comes from the tables of Mughal royalty and can be traced back to the 16th Century.  It is characteristically made creamy with the use of nuts that are fried then ground, cream and yoghurt. 
We have tweaked our blend for all of you who are time poor, nut shy and hate cutting onions.  Apart from the marination time, this will take you 24 minutes in an oven.  Best of all, you needn't worry about the longer list of ingredients that comes with our traditional recipe.
1)
MARINATE
:  in a glass bowl place
1 cup Greek Yoghurt
,
1/2 pack of our spice
,
5 cloves grated garlic
(1 tbsp),
1 level tbsp sugar
,
1 level tbsp sea salt
,
2 sweet peppers
(a mixture of red/yellow/green looks good).  Mix in
1 whole chicken
(1 - 1.2kg) cut in half.  Allow to marinate in the fridge, minimum 30 minutes maximum 12 hours.
2) 
COOK
:  Heat your oven to 240C.  Line a baking tray with parchment paper (to avoid scrubbing).  Place marinated chicken on tray and cook for 24 minutes.
NOTE:  We have also tested this out, on a stove top, with diced, boneless chicken thigh filets.  Empty marinated chicken into a cooking pot, add 1 cup water and cook, 
covered
 for 10 minutes, on medium high heat. 
Vegetarian recipe:
Use our alternative recipe for this spice: Roasted Aubergine Pasta
(printed on inside cover of our new packs).
.
shopping list:
fresh
1 kg chicken thighs (use half the spice pack)
1 stalk fresh coriander leaves
100 g yoghurt
2 green chillies (optional)
pantry
oil / ghee
1/2 cup raw cashews
1/2 tablespoon crushed garlic,
1/2 tablespoon crushed ginger
Ingredients from nature's medicine chest:
100% spices (no additives or preservatives)