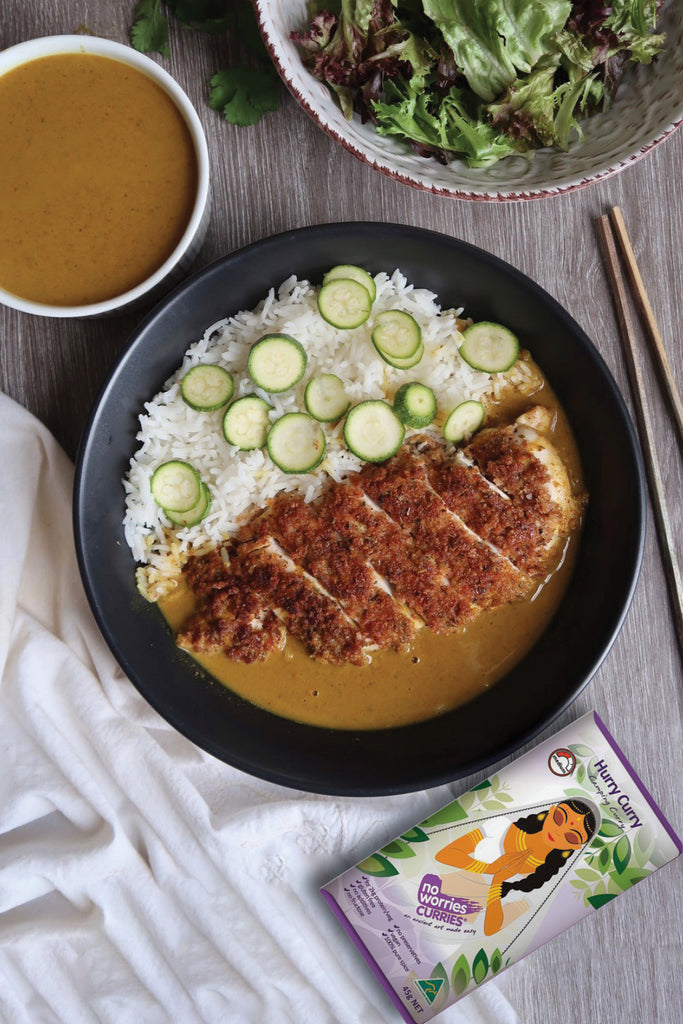 HURRY CURRY spice powder
$6.00
camping curry
This curry is a No Worries creation and is dedicated to all those people who want a no fuss curry to cook when camping - see our simple recipes on the pack.
We have baked, stir-fried and stewed with this versatile spice.  
We have a customer who tells us she uses it in curried eggs!  Dare we say you need no other curry spice?
You can also go a bit fancy and make a delicious Katsu Curry, illustrated in the picture below.
Katsu Curry recipe (for a vegan version - substitute chicken with crumbed tofu/aubergine steaks)
As you well know from our Instagram feed, we love using our blends in non-Indian recipes to 'spice' things up. The Katsu curry calls for a Tonkatsu sauce.  From Japanese blogger, Namiko Chen, Just One Cookbook  and others we found out that this sauce is made with vegetables and fruit like tomatoes, prunes, dates, apples, carrots, celery, onion and curry powder. With experimentation we found our Hurry Curry is the best fit for the spice component and have combined it with pantry items to create a delicious tangy sauce. We love this recipe as it comes together so quickly - truly a hurry curry if you use store bought schnitzel or tofu!  
Tenderise* 2 chicken breast fillets (around 500g)
Heat a pan; then add 2 tbsp vegetable oil, 1/2 a diced onion and 2 cloves minced garlic.
When the onions are translucent add:
200ml chicken/vegetable stock,
1 tbsp Mirin,
3 tbsp Ketchup/Tomato Sauce,
2 tbsp Soy sauce,
1 tsp grated ginger,
2 tsps Worcestershire sauce,
1 tbsp brown sugar/honey and 
1 level tbsp Hurry Curry spice.  
Mix, then simmer this sauce for 10 minutes.
In the meantime, whisk 50ml milk and 2 egg yolks together.
Lightly dust tenderised chicken fillets in plain flour, then dredge them in egg and milk mixture and then press lightly to coat in Panko crumbs.
Heat a frying pan on medium high, then add 2 tbps vegetable oil.
Fry fillets, for 3 minutes on each side. 
Rest for 5 minutes whilst you make a fresh salad accompaniment.
to serve, arrange sauce and chicken sliced as in the picture below.
*To tenderise chicken:
Slice each breast lengthwise so you have 4 pieces. Use the traditional mallet method
or
this easy tip to velvet chicken:  Per 500g chicken breast apply 1 ½ tsp soda bicarb and  refrigerate for 20 minutes.  Rinse thoroughly, then pat dry.  
Apply 1 tsp Maldon sea salt.  Set aside till ready to pan fry.
Hurry Curry spice ingredients from nature's medicine chest: 
100% spices (no additives or preservatives)