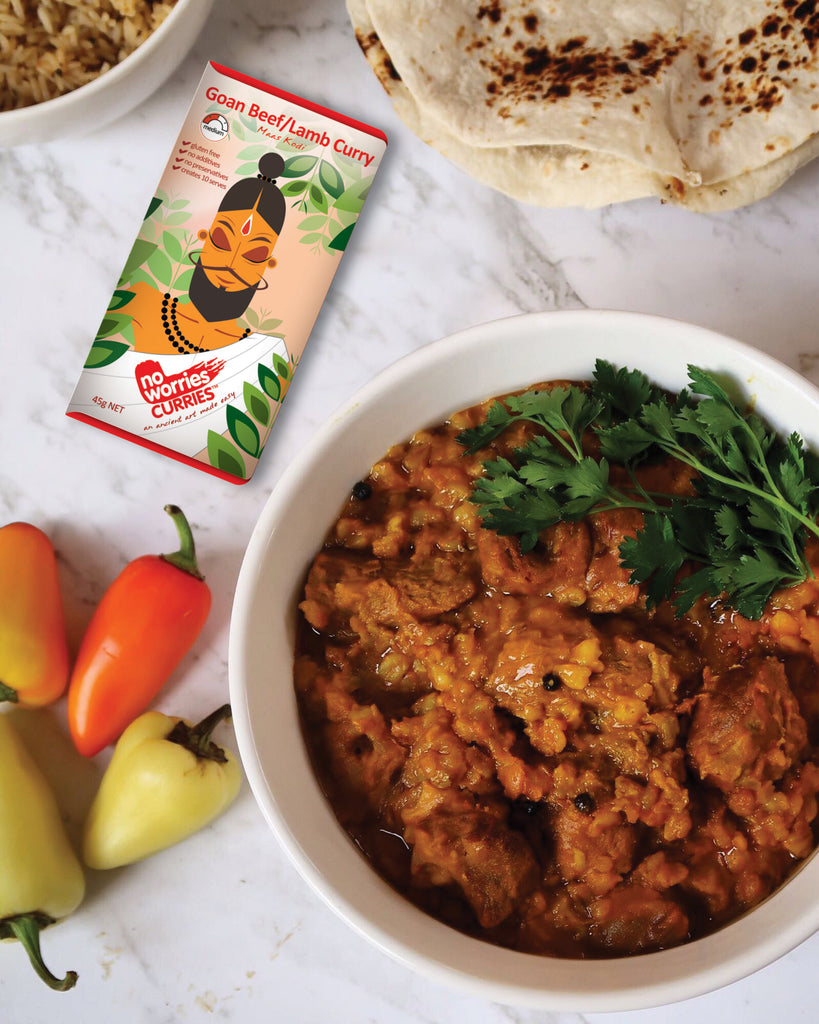 GOAN BEEF / LAMB CURRY spice powder
$6.00
maas kodi
Let's take you to our home state Goa; a coastal paradise where the tops of coconut trees kiss the sunny blue skies, where homes are painted in the brightest of colours and where the party vibe reigns all year round (only the heavy monsoon rains can dampen it). Like many regional cuisines, Goa's cuisine has its own unique flavours, some of which have been greatly influenced by the Portuguese who ruled from 1510 to 1961 and left their colonial legacy on just about every aspect of Goan culture so much so that they remain intertwined until now.  
In this dish, known locally as maas kodi (maas meaning meat and kodi meaning curry) the holy trinity of Indian cooking (onion, ginger and garlic) are sautéed before relatively mild spices are added. The meat goes in and is stewed in its own juices and in combination with the spices. The use of tomatoes and vinegar adds the important element of sourness which is a common feature in Goan cuisine. Coconut is an intrinsic ingredient in many Goan dishes both savoury and sweet. It is added to this dish and unites all the ingredients and gives the meat even more depth of flavour. The best way to enjoy maas kodi is alongside some Goan red rice but if you do not have access to that, basmati rice will do. 
vegetarian version
Use our alternative recipe for this spice:  Vegetarian Pâté (printed on inside cover of our new packs).
shopping list:
fresh
1 kg chuck steak or osso bucco (use half the spice pack)
2 stalks fresh coriander leaves
250 g tomatoes (add more tomatoes if you wish to leave out the coconut milk)
pantry
oil
1 onion
salt
garlic
ginger
200 ml coconut milk
balsamic vinegar
Ingredients from nature:
100% spices (no additives or preservatives)