Why Butter Chicken Will Always Remain a Favourite of Curry-Lovers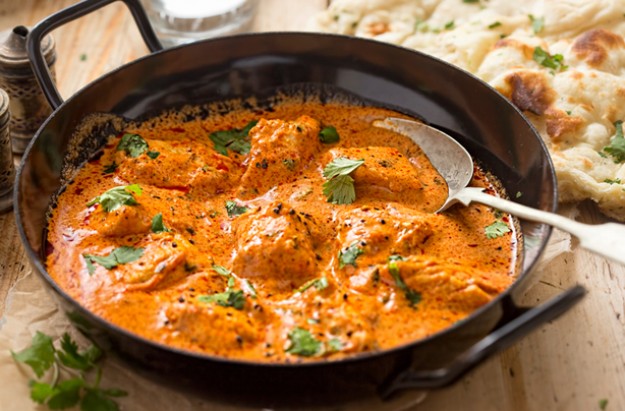 My hypothesis is that any dish which contains the ingredient 'butter' in its name will certainly not disappoint: Butterbeer (hello wizarding fans); Peanut Butter (or any of its nutty counterparts); Butterscotch (especially if we are talking about chunks of it in my ice-cream) and Butter Chicken (best enjoyed when served with warm naan).
I have long been a believer in the fact that the amount of butter used in a recipe can only ever be greater than or equal to the amount of love the cook has for those whom she is preparing the dish. It is no surprise then, that Butter Chicken has won hearts and tastebuds throughout the world because of the generous lashings of butter perfectly dissolved into a thick tomatoey gravy that has absorbed the sultry spices of the tandoor-roasted chicken. The dish takes you on a rollercoaster of sensations with every bite; it is mildly spicy, with a hit of sweetness from the tomato base; the mix of butter and yoghurt makes it creamy and; the juices of the spiced chicken give it a tangy touch.
The humble origins of this dish can be traced back to a talented young chef named Kundan Lal Gujral (who had already been credited for inventing Tandoori Chicken and would later go on to create the renowned Dhal Makhani). He had fled to Delhi from Pakistan following the partition and started a restaurant called Moti Mahal. Chef Kundan saw that the tandoori chicken skewers which did not get sold during the day, would go to waste, and so he thought of cooking that same chicken in a sauce to soften it. That sauce was the sauce that propelled this culinary genius into legendary fame and has kept his soul alive through the makers and eaters of Butter Chicken.
My first exposure to this dish came from my Dad, a trained chef and lover of Indian cuisine. His Butter Chicken is renowned amongst our circle of family and friends and it is a dish he always prepares whenever we entertain at home. Although we do not have access to the traditional Indian tandoor (a cylindrical clay oven), he uses our very modern oven to bake the chicken which has been marinated in yoghurt and a blend of spices overnight. My friends like his preparation because he masters the balance between spices and buttery-ness. Sometimes you can order a Butter Chicken that is so opulent that it fills you up and leaves you with an unsettling heaviness in your tummy; Other times the dish can be watered down and resultantly lacks 'oomph'. Fine tuning your Butter Chicken can be as tricky as doing salsa blindfolded and on a beam - there are so many different elements that require balancing.
Fortunately for you, we have taken the guesswork out of making Butter Chicken (and other favourites). Our authentic, naturally-blended, gluten-free and preservative-free Butter Chicken spice blend will have your family and guests loosening the belts on their pants to make space for another helping (or two) whilst raising their eyebrows quizzically at your unassumed ability to produce an authentic-tasting Indian curry. And because the love for you all is real, we have added a foolproof recipe to prepare this dish with relative ease and certainly hardly any fuss. For vegetarians and vegans - add paneer (Indian cottage cheese) or tofu respectively to make a delightful meat-free version of this dish. Click here for your life-changing Butter Chicken spice blend.
If you are a nutter for butter and want to test out my hypothesis above, then you should most definitely taste our Dhal Makhani (Buttery Dhal) spice blend. 'Makhan' means 'butter' in Hindi and its addition to this lentil-based dish transforms it from an 'everyday' kind-of meal into one fit for royalty. Because everything tastes better with butter.
By Conchita A. de Souza
PC: http://goodtoknow.media.ipcdigital.co.uk/
---
---