Ideas for Creative & Simple Garnishes in Indian Cuisine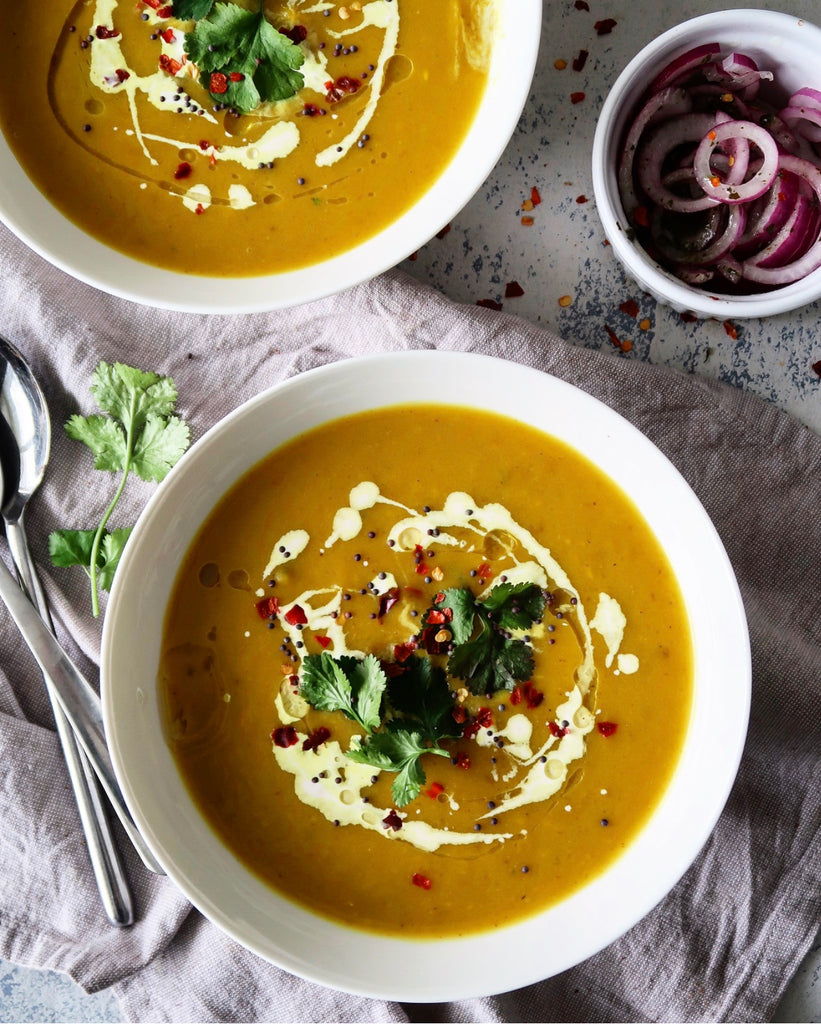 Today, let's talk about curries.
Wait, we do this all the time anyway (it is not only our job, but also our passion!).
Let's specifically talk about the presentation or garnishing of a curry. The art of presenting a dish existed long before the advent of Instagram or Pinterest, these platforms being largely driven by aesthetics.
There are numerous ways in which you can present a curry, especially if you have guests over that you would like to impress, or a generation of social media offspring who appreciate visual presentation almost as much as taste. 
While curries are delicious they are not appetising straight out of the pot.  But wait, do not despair, with a few pantry/fresh ingredients you can tempt your young ones to tuck in and make some really Instagram-worthy pictures too. Something as simple as slivers of raw onion or wedges of lemon on the side brings both a pop of colour and flavour to an already mouth-watering dish.  
To make things easier for you, we have sorted garnishing ideas alphabetically and included links to our Instagram feed for presentation ideas.
Apricot halves (tinned)

Baked potatoes - add them to a coconut-y chicken curry like our Kerala Chicken.
Baked tomatoes
Banana leaf
Cherry tomatoes - halved


Crumbed Chicken

– Check our our

Hurry Curry

spice blend for a twist on a delicious Katsu Curry.

Crusty bread slices on the edge
Dollop of yoghurt, especially if garnishing a Korma.

Eggs – boiled then sliced

- they look beautiful on a Biryani.
Eggs à la Shakshouka - We even have an Indian twist on this popular brunch item! Click here for our recipe.
Fresh herbs
Fried cashews - again works well with Biryanis or pilafs
Fried Dhal
Fried onions - again works well with Biryanis or pilaf
Pakoras on Dhal - If you are making a simple dhal (

click here

for our recipe), why not add pakoras (deep fried snacks) as a garnish? We guarantee that this will be a hit because who doesn't love a bit of deep-friend anything on the side?

Click here

for our pakora spice blend (the main thing you need to make these is chickpea flour, an item easily found at your local Indian store). 



Peppers

 - a great garnish for achari gosht
Pickled onion rings

Pomegranate jewels

-

Make your

biryanis

even more regal by garnishing them with fresh pomegranate seeds.

Poppy seeds
Sali - shoe string potatoes which the Parsis also use this on a meat dish called Sali Boti
Salsa (Kachumber) 
Sesame seeds
Shev
Sliced fresh chillies
Slices of lime
Slivered ginger
Solan 

Swirls of cream

-

Add swirls of fresh cream to a

Dhal Makhani

or even

Gajar Ka Halwa

(Carrot Pudding)



Tadka

(infused oil)

Water Pickle veggies
Hope that this list helps you to get even more creative with Indian cuisine in your kitchen. Don't forget to tag #noworriescurries in your social media posts!
---
---