The Beloved Dhaba - Highway Eateries in India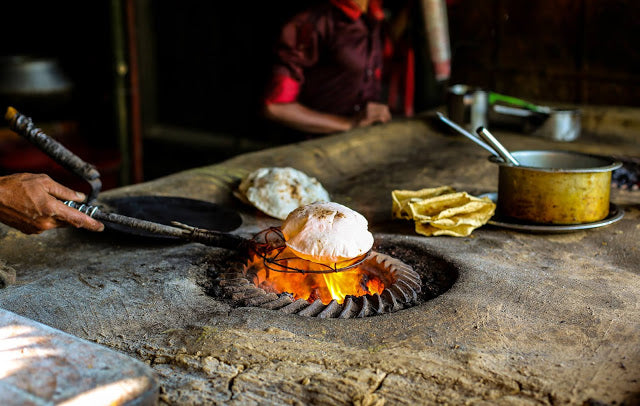 Cover Image: Mriganka (Micky) Kalita
Almost all of the road trips I did when I was living in India always involved a pit stop at a roadside dhaba for some hot chai and a quick but tasty meal. This time would be used to stretch out the legs, make a dash for the loo and freshen up tired eyes. It was a ritual as important as arriving at the said destination. 
In this post, I explore the origins and features of dhaba food and link you to recipes that will enable you to create dhaba-inspired cuisine from your very own kitchen. 
The origins of the dhaba
The origins of dhabas are synonymous with Punjabi cuisine because they are said to have sprouted in the northern region of India, specifically on the stretch of highway that connects Kabul in Afghanistan through to the major Indian cities of Amritsar, Delhi and Kolkata before coming to an end at Chittagong in Bangladesh. The British renamed this pass as Grand Trunk Road but it had existed as far back as the fourth century BC and remains the oldest and longest highway in southern Asia when it was used primarily for trade (and for invasion as well). 
Since the twentieth century, dhabas have served as truck-stops for weary and hungry truckies making such long journeys. They were far from fancy; often a thatched hut with mud floors and a sheltered area containing charpai (a string cot) for truckies to take a nap. The main ethos of the dhaba was to provide truckies with fresh, home-cooked meals at an affordable price. 
The wide popularity of dhaba cuisine has extended beyond the highways. Nowadays you will find restaurants/eateries in the heart of the cities and suburbs serving 'dhaba meals'. They are often hole-in-the-wall kinds of restaurants whose street credibility is bolstered by a star item on their menu. The recipes are passed down through the generations and guarded as though they have been patented. 
Image: https://www.cravebits.com/dhabas/
Features of dhabas
Your choice of meals depends on where you are in India. A dhaba's menu often reflects the local cuisine though these days items like pizza and burgers are appearing all too often on the menu due to the influence of multinational fast food giants. Dhabas in Goa will serve the traditional sheet kodi (rice and fish curry) or you can order sambar-rice from a dhaba in Karnataka. The features mentioned below are especially attributed to dhabas in northern India. 
Fresh meals
Dhabas are a testament to the fact that simplicity and freshness are the cornerstones of a comfort meal. Back in the day (and even now) there was limited access to refrigerators and devices like mixers or grinders. Seasonal produce would be purchased fresh from the local market and in small quantities, sufficient to meet the demands of the day. Often the ghee or white butter used is made at home as it can be expensive to purchase from the shops.
When it comes to preparation, cooks prefer whole spices over ground (the latter being time-consuming to prepare and expensive to purchase). Food is cleverly preserved through the use of oil, spices and dahi/curd (the acidity is a preserving agent and it is less expensive than using fresh tomatoes). And when I mention cooks, I don't mean trained chefs; often those who are cooking cannot tell you how to julienne vegetables or to braise meat. They don't don the chef's whites or even an apron (perhaps a tattered cloth or tea towel to wipe away their own sweat). But they do know how to prepare a meal that encapsulates the taste of home, wherever that may be.
Use of a tandoor
The tandoor is a traditional clay oven that is used in the preparation of foods. It is cylindrical in shape and is usually dug into an enclosure with food going into it from the top opening. Tandoors get much hotter than your conventional oven and cook food faster thanks to the intense heat. Another bonus is that the tandoor can maintain the same temperature for hours without the need for refuelling it. This makes it an ideal tool in dhabas where meals need to be prepared at minimal cost and with expedience. Once your order of tandoori roti or naan reaches the kitchen, you can bet that the rolled out dough will be thrown onto the walls of the tandoor and baked so fresh that it is still steaming when it reaches your table. Aaahhhhhhh. 
The best thing about the tandoor is that it makes food taste bloody good and there is a reason behind that. The extreme heat locks in the natural juices of the meat/vegetables, the shape of the tandoor ensures even cooking and the smoke from the fire leaves the food with a charred exterior. Sumptuous!
'Chotu' - a young waiter boy
The nickname 'chotu' is given to the youngest of waiter boys working at the dhaba and designated with the most menial of tasks. He is usually of school-going age and often does not work out of choice but out of necessity. If he ever happens to serve you, discreetly give him a generous tip or even a souvenir if you happen to be carrying one (though there is no guarantee that he will get to keep any of it). 
Dhaba food in the western Himalayas
Let me tell you about one of my favourite experiences of dhaba food high in the western Himalayas. In this instance, it was not so much the food as the experience of eating it that made it one of the most memorable. When I was living in Delhi, I joined a colleague for a group trek to Triund, a meadow located on a hill that overlooked the Dhauladhar mountains in the state of Himachal Pradesh. It was by no means an intensive trek (8kms -9kms) but given that I was a beginner at trekking, I did not exactly breeze through.
When we reached the top of the hill where we would spend the night camping, there were a few measly shacks serving maggi noodles (the go-to meal for college students) and piping hot chai. As dusk approached and the chill set in, we ordered the noodles and chai and gazed in awe at the snow-capped mountains and the breath-taking sight that only nature could so effortlessly conjure.
Create your own dhaba-inspired meals 
Whilst we are unable to have an authentic dhaba experience right now, you can try to recreate some of these quintessential dhaba-inspired meals from your own kitchen. 
Articles
https://www.smithsonianmag.com/travel/roadside-highway-dining-india-dhaba-cuisine-tradition-180957795/
https://medium.com/@prakhardeepjain/a-captured-life-of-dhaba-9253b74a60ac
---
---