Souring Agents Used in Indian Cuisine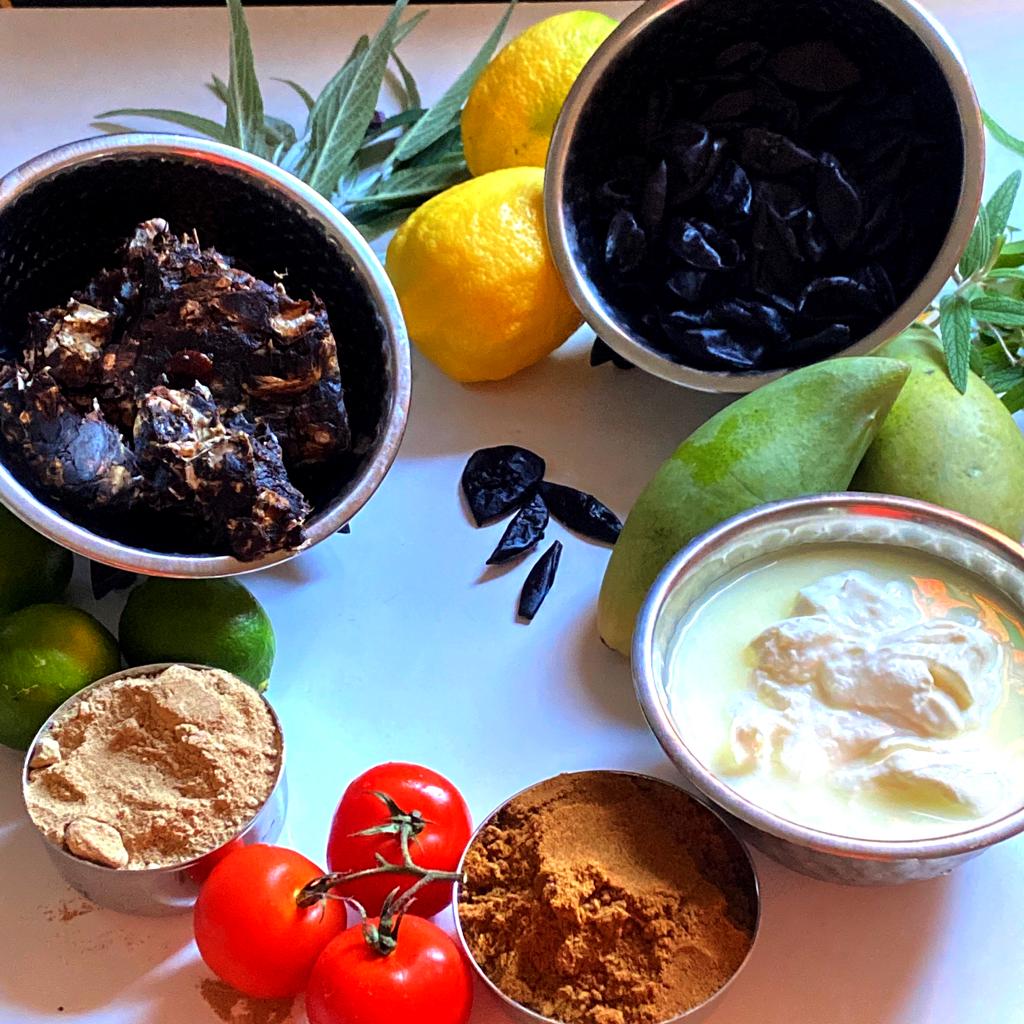 We all know that Indian cooking is synonymous with spice. Something that you may not know is that tartness/sourness is also a key flavour in many Indian dishes because it cuts down the pungency in spicy dishes but also serves to complement the spices.  Whether you add your souring agent early on in preparing the dish to add complexity or towards the end to bring that element of freshness, there is no doubting that the sour sensation is one that whets the appetite and is cleverly used as a "creative tool" in many cuisines.*
As a child on the school playground, I remember the excitement and anticipation of opening a warhead candy, which was renowned for its range of extremely sour-flavoured items.  My favourite flavour of potato chips was salt and vinegar because no other chip left my tastebuds buzzing as this did. 
One could argue that my tastebuds are still very much excited by the concept of sourness, though in a more refined way.  I love the combination of seafood garnished with fresh lemon as much as I love a good roast that has been marinated in vinegar and spices and cooked slowly. 
There is a whole science behind sourness, which is outside the scope of this post, however if you would like to get a start on it, we recommend reading this article by Mark Diacono from The Independent. 
Imli (Tamarind)
The classic south indian staples of sambar and rasam rely on tamarind for the sharp taste of sourness that blends beautifully with the lentils, vegetables and roasted spices contained in the former dish.  The latter dish, rasam, is a spicy broth poured over rice and slurped without shame!
In many Asian countries, tamarind is made into a sweet by processing it until it has a smooth consistency, rolling it into little balls and coating it with sugar. 
Tip:  Soak tamarind in hot water, then strain and store the paste in an ice cube tray. It's easy to pop out a cube whenever you need one. A good substitute for tamarind is Ketchup/Tomato Sauce.
Raw Mango 
It is very difficult to flaw the fruit that is mango. Its juicy pulp and bright yellow shade screams summer at its best.  Something you may not know is that mango, in its raw and somewhat ?? form beautifully sours the right curry or works equally well when made into a chutney or pickle. 
In summertime, mangoes are in abundance across India.  The attentive farmers noticed that too many mangoes would fall from their branches long before ripening and so made use of them in their raw state. 
In the east of India, raw mango is added to yellow dhal.  On the Konkan coast through Karnataka, Goa, Mangalore, Kerala, and Tamilnadu, raw mango is used widely in cooked dishes.  It is added to fish curries and releases its sourness as it simmers.  The Parsi community shreds the raw mango and adds it to their omelette. 
Tip: Buy raw mango. Slice and freeze for use when unavailable.
Amchur (Raw Mango) Powder 
This is one of the main spices used in chaat masala. It works well when mangoes are not in season and you still want your dish to have that kick. As it is a powder, it is far easier to cook with and store in your cupboard. 
Tip: This is a good souring agent when you have a short cooking time as with vegetables.
Kokum
The southern west coast of India, particularly the Konkan coast, make wide use of the fruit kokum. Kokum is a small reddish fruit that is very sour (likened to the sourness of gooseberries at first bite, if you have ever tasted them) and is used in its dried form to add that very sour element to curries. We add dried kokum to many a fish or prawn curry, and it stews away, releasing its sour power in a pleasant fashion. 
In Goa, this ingredient is also used to make a refreshing digestive drink known as Sol Kadi. Click here if you would like the recipe. 
Tip: You can find this rare ingredient in most Indian grocery stores.
Anardana (Pomegranate) Powder  
This powder is commonly used in both North Indian and Persian dishes. 
The ruby-red seeds of this fruit (which make for a beautiful garnish) are dried and then ground into a powder which has a good balance of sweet and sour, so it can be added to many a curry. 
Tip: Add this to your salad dressings for that extra tanginess. 
More common souring agents 
These agents are not specific to Indian cuisine: 
Lemon/Lime

- Almost every roadside restaurant serves wedges of lemon as an accompaniment to most meals and street food. Lemon adds a kick of freshness when added as a garnish and can also cut down the spice levels. I am a hardcore squeezer when it comes to garnishing my kebabs with lemon; nothing tastes better!




Tomato -

What is a butter chicken without the thick and creamy tomato base? Tomatoes are the silent souring agent that we take for granted as they are mostly used in the early stages of preparing a dish, especially in denser meat-based curries.




Vinegar -

In Goa, many dishes contain vinegar that is locally made from the sap of the coconut stems containing flowers and from the coconut itself (

toddy

). It is said that the use of vinegar in cooking was introduced to this region by the Portuguese. Many classic Goan dishes like

Vindaloo

and sorpotel and their iconic flavours can be attributed to the use of this particular vinegar. As we cannot find Goa Vinegar as easily we substitute it with Balsamic Vinegar.


Dahi (curd) -

almost every Indian meal can be accompanied by spoonfuls of plain dahi. Sometimes it is embellished with crunchy vegetables like cucumber and turned into a

raita

. Many meat curries, specifically lamb and goat, often use dahi in the marinades. 
As you can see, sourness plays an important role in Indian cuisines largely because of the additional dimension of taste it adds.  Let us know if you have used any of the above ingredients, and if so, how you incorporated it into your dish and the results it gave you in terms of flavour. 
*Diacono, M (September 2019) How to cook with Sourness https://www.independent.co.uk/life-style/food-and-drink/sour-cookook-mark-diacono-lime-pickle-chicken-recipe-instructions-a9094071.html
---
---