[Part 1] From Darjeeling to Kolkata - A Journey Through West Bengal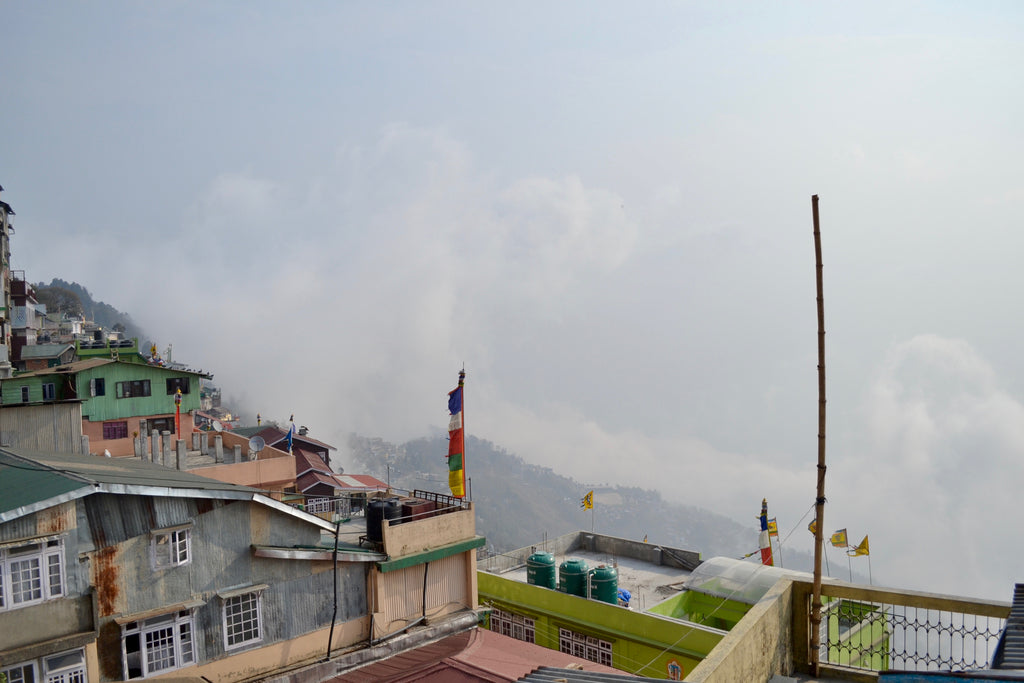 Part 1 - Darjeeling: The Foothills of the Himalayas
There is a famous saying which goes 'what Bengal thinks today, the rest of India will think tomorrow'. Bengalis as a people, are often marked by their intelligence, wit, creative flair and outspokenness. West Bengal is a state situated on the east coast of India. The cardinal direction of 'west' was affixed to the name as a result of the British partition in 1947, which separated Bengal into east and west based on religious affiliations. The latter had a larger Muslim population, and the former, a larger Hindu population. East Bengal became a part of Pakistan in 1947, and eventually gained freedom from them in 1971, to form the nation of Bangladesh.
Didn't quite understand the gunny sack style, but these folks sure pulled it off!
It was the month of April, and I was backpacking through India with a colleague/flatmate/friend/lover (all at once, believe it or not). We left Gangtok and took a shared vehicle to reach, four hours later, the picturesque hill station of Darjeeling - a once popular place of respite and escape from the scorch of the summer for the British Raj elite. Literally a town built in the clouds, Darjeeling lies at an altitude of 6,710 feet and on a clear day (which I unfortunately did not experience), you can see the Kanchenjunga range towering majestically over the town. Lonely Planet describes Darjeeling as the 'front row seats' to the Himalayas, and no doubt that would have been the case had we not been stuck in a series of clouds that varied in density, temperature and even colour. It was in the hills of Darjeeling that a great truth was revealed to me; clouds aren't fluffy and white like fairy floss or cotton balls, they are in fact cold, wet and pass through you like a ghost who has lost its way on earth. It was yet another, delayed but painful initiation into adulthood, and hurt just a little less than when I found out Santa wasn't real (if you're a kid reading this, I apologise for breaking your spirit).
Capturing life up in the clouds
The cold weather worked up our appetites and my body, which by that time had been worn down from weeks of travel, changes in climate and lack of home-cooked meals, turned against me and contracted my most favourite of illnesses - GASTRO. I would run for the toilet within 10 minutes of eating anything and was soon dehydrated, tired and highly suspicious of all which I had consume through my mouth. It was a sad time to be sick, and this sadness was deepened by the fact that my travel partner was as fit as a fiddle. I would watch him with envy as he tried and enjoyed the local cuisine and would grimace over my fruit or plain herbal tea. Darjeeling sports an array of cuisines that reflect Tibetan and Nepalese influence. The food found here is far more fresh in taste and authentic in preparation, than the 'Indo-Chinese' cuisine available across the main cities in India.
My exploratory mood was flushed away, along with runs to the toilet, and our plans to cross the border into Nepal, watch the sunrise over Tiger Hill and eat our body's weight in momos (also known as dumplings) were dashed. I did manage a brief joyride on Darjeeling's famous tourist attraction - the toy train, which began operating in 1881. My paternal grandfather was an employee in the railways, and my great grandfather drove the local trains in Mumbai, so there was a sense of obligation to take a ride on this train, which is now listed under UNESCO World Heritage sites. The town centre of Darjeeling can easily be mistaken for a city in Western Europe, as it is dotted with branded stores, fancy bakeries and lots of tourists. Although I was unwell, I would look forward to our night time crawls through the town centre, only 10 minutes walk from our hotel, finding boutique stores, a variety of hot and spicy street food and markets hidden in the alleyways.
The famous Darjeeling Toy Train, parked at the station.
Our trip in Darjeeling ended with a visit to the hospital; for in spite of cautious eating, taking extra rest and increasing my intake of fluids, the gastro persisted and I was worried I wouldn't be strong enough to travel the 650kms down south to reach the capital of West Bengal - Kolkata, where our backpacking would continue. The doctor prescribed antibiotics, and I was relieved to know that it was nothing more serious than a bad attack of gastro. We had a six hour journey in a shared taxi to reach the main station called New Jalpaiguri, where we would board the overnight train to Kolkata. Our jeep wound slowly through the steep and narrow roads that snaked like ribbons along the hills. We passed the greenest of tea plantations, dotted with smiling faces busily hunched over the bushes. Tea in this region is so famous that most of it is exported and enjoyed by foreign palates as opposed to the local ones that endlessly toil to produce it. About an hour into the ride, the weakness hit, and I spent the next 5 hours sleeping on my partner's lap as drove further away from the magical hills and towards even, stable, and somewhat less intriguing grounds.
To be continued...
---
---