Musings in Madhya Pradesh - Khajuraho and Ujjain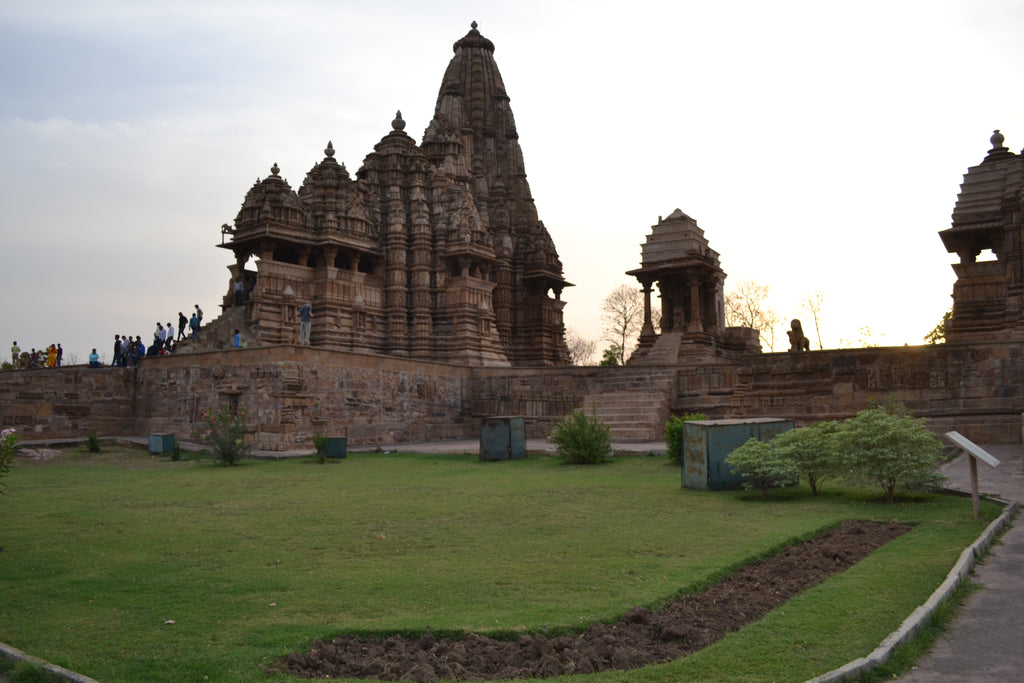 In April 2016, my partner and I left a swelteringly hot Delhi and commenced our month-long journey across central, north-eastern and eastern parts of India. We were young backpackers beckoned by adventure. We were in love and had not much money to spare.  Fittingly, our journey was planned via India's extensive and all-encompassing rail network, which was not only affordable and safe, but also appealed to our sense of romanticism - of crossing the land without ever leaving it and partaking in our journeys with strangers. 
Khajuraho's Legend
Our night train journey was rather uneventful, save for the next morning when a passenger entered our cabin along with her pet chicken in her luggage that she let out on the train floor because, why not? Soon after, and thankfully, our train stopped at our first destination in the morning, Khajuraho in the central state of Madhya Pradesh. It was a name I could barely pronounce but the town boasted many artistic and architectural marvels allowing for it to be listed as a UNESCO World Heritage site. It is known of course for the beautifully intricate temples, a handful of which display erotic carvings that may have raised a few eyebrows of the many visitors who might misunderstand its meaning. These Hindu and Jain temples date between the 10th and 12th centuries CE and were built under the reign of the Chandela Kings.
The legend behind this ancient city tells of a beautiful maiden named Hemavati, daughter of a Brahmin priest, who bathed in the river by moonlight. The Moon God was captivated by her enchanting beauty and descended upon earth to seduce her as she bathed. Hemavti surrendered to the Moon God's intense and passionate advances and nine months later, gave birth to a son that she named Chandravarman. She raised him in the wilderness, safe from the scorn and harassment that society directed towards her for coupling with a God and having a child outside of wedlock. The Moon God promised her that their son would one day become a great ruler and true to his words, Chandravaram was king and founder of the Chandela dynasty. He is said to have built the temples in honour of his mother and as an ode to passion.

Image: The sculptures exploring human sexuality and intimacy
Only ten percent of the sculptures of men, women and creatures that guard the temple are considered 'erotic' in nature. The remaining depict the cultural, religious, economic, social and daily aspects of life at the time such as hunting, fighting wars, watching performance, mediating and getting dressed. I marvelled at the intricate details of the figurines and how they seemed to be carved. The women figures are defined by their curvy bodies and exotic eyes and are more like real women frozen in time rather than skilfully sculpted and chiselled in stone. The temples themselves are made up of clusters of towers (shikhara) that resemble the peaks of mountains and create striking architectural feats. 

Image: Domes formed by clustering of towers 


Image: The intricate details in the carvings and sculptures
The relentless heat during our short stay in Khajuraho meant that the evenings were more suited for sightseeing than the mornings and afternoons. If we did try going out in the heat, we would return to our hotel and collapse onto our bed with the air conditioning set to freezing. We were able to explore other sites like Raneh Canyon Falls and Panna National Park before we left this remarkable town for our next destination.
Ujjain
A year later I would again visit the state of Madhya Pradesh with the same person. On this occasion, we arrived and parted separately, a sign perhaps that we were holding on to a past that no longer served us. The city Ujjain is host to Kumbh Mela (a once in every twelve year event) and Mahakaleshwar Temple and we visited this temple dedicated to Lord Shiva and hosting an endless stream of pilgrims. I remember hopping about as I had to remove footwear at the outskirts of the temple compound and the floor was burning my feet. The pilgrims around me did not seem phased and so I grimaced until we entered the temple (separate entrances for men and women) and my blistered feet could rest on the cool marble floors. 
Every morning, our hotel would serve us a complimentary breakfast of either poha (beaten rice) or kachoris (similar to samosas but round in shape and stuffed with a spicy lentil filling). My Australian tummy, accustomed to breads (including roti) with spreads, eggs on toast or cereals, did not quite take to the spicy morning pick up and I would skip breakfast or drink juice instead. 

Image: Poha and kachori served with piping hot masala chai
On a warm evening, we visited Ram Ghat and watched the numerous theatrical aartis (prayer services) that took place as worshippers bathed in the waters. On another evening we headed to one of those hole-in-the-wall restaurants that serve soft and juicy kebabs with romali roti. Indian Muslim food is one of my favourite Indian cuisines and one of the few instances where I would opt for meat over vegetarian. After our satiating meal, we headed to a famous sweet vendor in the main town that sold the creamiest Kulfi (Indian cardamom and Rose flavoured ice cream) that I have tasted. It was all kinds of creamy and was served on a stick and I admit that the image does not do justice to it. 



Image: The exact kulfi that changed my life

Image: The Aarti (prayer ceremony) by Ram Ghat
I knew that as my night train left Ujjain for Ahmedabad (where I was based that year), I had tasted a small piece of what this culturally and historically-rich state had to offer.
Cuisine of Madhya Pradesh
I have observed that in India, the cuisine is spicier and the sweets are sweeter in places where the climate is hot and dry. We have learned that consuming spicy food raises our internal body temperature and induces sweating as a mechanism to cool down. Madhya Pradesh is a hot and dry landlocked state in central India and boasts spicy cuisines that are both vegetarian and non-vegetarian and take influence from its neighbouring states of Rajasthan and Gujarat. Wheat is the staple and locals prefer roti over rice. The flowers of the Mahua tree are used to produce local liquor and also make jams and preserves. 
Some of the popular street foods include items that we know and love like samosas and pakoras. There is an abundance of poha topped with sev and pomegranate that is sometimes served with jalebis (a sweet made from chickpea batter that is deep fried and then soaked in a sugary syrup). Sabudana Khichdi is one of my favourite breakfast dishes (I like it more than Poha) and is made up of tapioca pearls that are soaked and sautéed with spices and ingredients like potatoes, curry leaves and peanuts. 
Another popular local staple is dal bafla -  small balls of wheat flour (about the size of a golf ball) are boiled and grilled over ovens powered by dung cakes. These balls are dunked into ghee and then served alongside dal and chutney. I tasted a similar dish in the neighbouring state of Jharkhand and thoroughly enjoyed it.



Image: Street food of Ujjain - Kachori (back) and Dal Vada (front)

In Bhopal, Madhya Pradesh's capital, you will find select restaurants serving silky mutton gosht korma. The mutton is slow-cooked with an array of spices including star-anise, fennel and black cardamom until it falls off the bone. It is served with a spicy gravy that can be mopped up with tandoori roti. Here is a tip for you - mutton curries (much like fish and chicken curries) taste much better a day after preparation, so in this case, fresh is not best! You can make your own gosht with the help of our spice blend.
Yet another non-vegetarian delight for your tastebuds are the soft and tender seekh kebabs made in restaurants in Jabalpur, another city in Madhya Pradesh. They are usually prepared with spiced minced and skewered on a grill or tandoor until the outside is crispy but the inside is soft and juicy. You cannot have these without the company of a tangy and fragrant mint chutney. Our Hyderabdi Kofta blend is perfect if you want to try something similar at home. 
For the sweet-toothed readers, the most popular dessert item is undoubtedly those crispy Jalebis. The sweetness is counteracted when served with warm milk that has been reduced and thickened. After a spicy meal (which is pretty much all the time), jalebis cool the palate and leave the sweetest of aftertastes. Another less decadent sweet treat are the chikkis (similar to peanut brittle) that are sold in the kilos at the local markets. 
I could go on listing the highlights of Madhya Pradesh's cuisine, but I will leave it here in the hope that we will all soon get a chance to travel and eat our way through the villages, towns and cities of the destinations that we long to visit. 
---
---