Indian Railway Journeys - Fast Food on Sometimes Slow Trains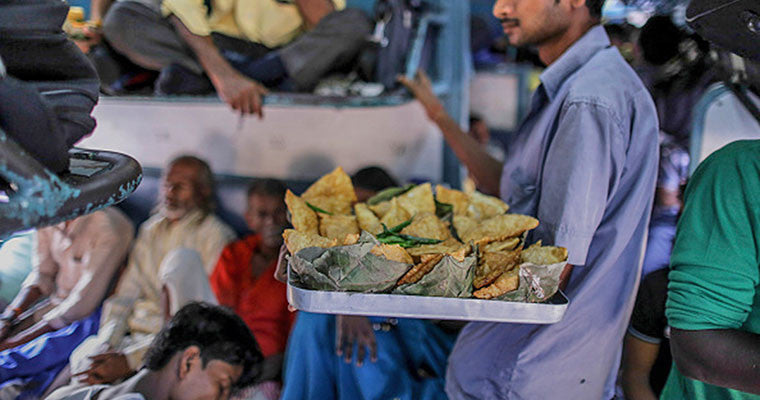 Even before I have had sufficient time to stow away my luggage under the seat on which I will spend the next 24 hours journeying nearly 1,200kms, I am already being semi-trampled by the first vendor to walk through my carriage selling bottled water. The next comes within two minutes carrying a large silver flask and yelling out 'chai chai'. Being India, he is stopped on several occasions in my carriage to serve hot chai. This act requires three specific manoeuvres which he executes with finesse; (1) the paper cup is removed from the stack in his left hand and brought to the tap of the heavy flask being held by his right hand; (2) He uses his left hand to turn the tap and release the chai and close the tap again; and (3) He serves the chai with his left hand and collects the money with the same and proceeds to repeat this process until his chai flask is empty. During the course of my journey, there must have passed at least 30 chai-wallahs (tea-boys). I honestly lost count by the 18th hour.
 If you were impressed by the above-mentioned chai-pouring process, I am yet to describe how vendors prepare bhel puri (a sweet and spicy snack involving fresh tomatoes and onions mixed with spices, tamarind chutney and puffed rice) or peanut masala (roasted peanuts served with onions, tomatoes, masala and drizzled with lemon). You are left admiring how these vendors manage to jump onto moving trains, hands laden with heavy, hot foods, navigate through the mass of bodies and luggage and come out relatively unscathed, with empty boxes and pockets full of small notes.
 During the course of my journey, I counted how many hot items (food and beverages) passed through my carriage and have listed them below. It should be noted that I spent 14-15 hours of my journey asleep and as a result there is a 59% chance that I missed counting some snacks during that period. I deliberately chose to omit the 'meal options' as a passenger must place an order to receive them (I enjoyed vegetable biryani for dinner). I also did not include the numerous packaged snacks that passed through the carriages (biscuits, juices, milk, chips, lollies etc.). Below is a list of just hot snacks and beverages.  
Samosa - Spiced potato and peas encased in deep-fried pastry shaped like a triangle;

Vada Pav - Spiced potato deep fried in chickpea flour and served with buttered bread rolls;

Pav Bhaji - A thick gravy made from potato, capsicum, cauliflower and spices all mashed up and served with toasted, buttered bread rolls;

Bhel puri - See paragraph 2 for a detailed description;

Idly Chutney - Steamed rice cakes served with coriander, mint and coconut chutney; and

Cutlet Pav - A spiced veggie patty served with sliced bread.
The variety is phenomenal. The snacks vary according to which part of India you are travelling from/to. Variety is also affected by the class you are travelling in. Lower classes like general and sleeper classes are exposed to more variety because such sections are more open and accessible to vendors (hygiene is questionable but I find closing your eyes during preparation and serving of food quite useful).
It should also be noted that train stations are excellent hubs for delicious snacks and meals at very reasonable prices. Individual platforms are usually filled with hawkers selling everything from fruit salad, to bread pakora (deep-fried slice bread stuffed with spiced potatoes) to cucumber slices sprinkled with chaat masala.
 So for those of you who are fortunate enough to travel to India and especially to travel on Indian trains, do release the foodie within and try the amazing variety offered. If you happen to have more than one train journey, then you are exceptionally fortunate and can perhaps spread out what you try (warning: too much deep fried bread and potato may not go down too well with your travelling tummy).
 If there is one thing you can be sure of, it is the fact that you can never starve whilst journeying with Indian Railways. I highly recommend that you begin your journey empty handed. I assure you that you will arrive at your destination with a full belly and taste buds that have experienced utmost contentment.
 Image source: http://newsable.asianetnews.tv/india/indian-railways-new-catering-policy-separates-cooking-production-of-food
---
---