Indian-Inspired Drinks to Cool Off in Summer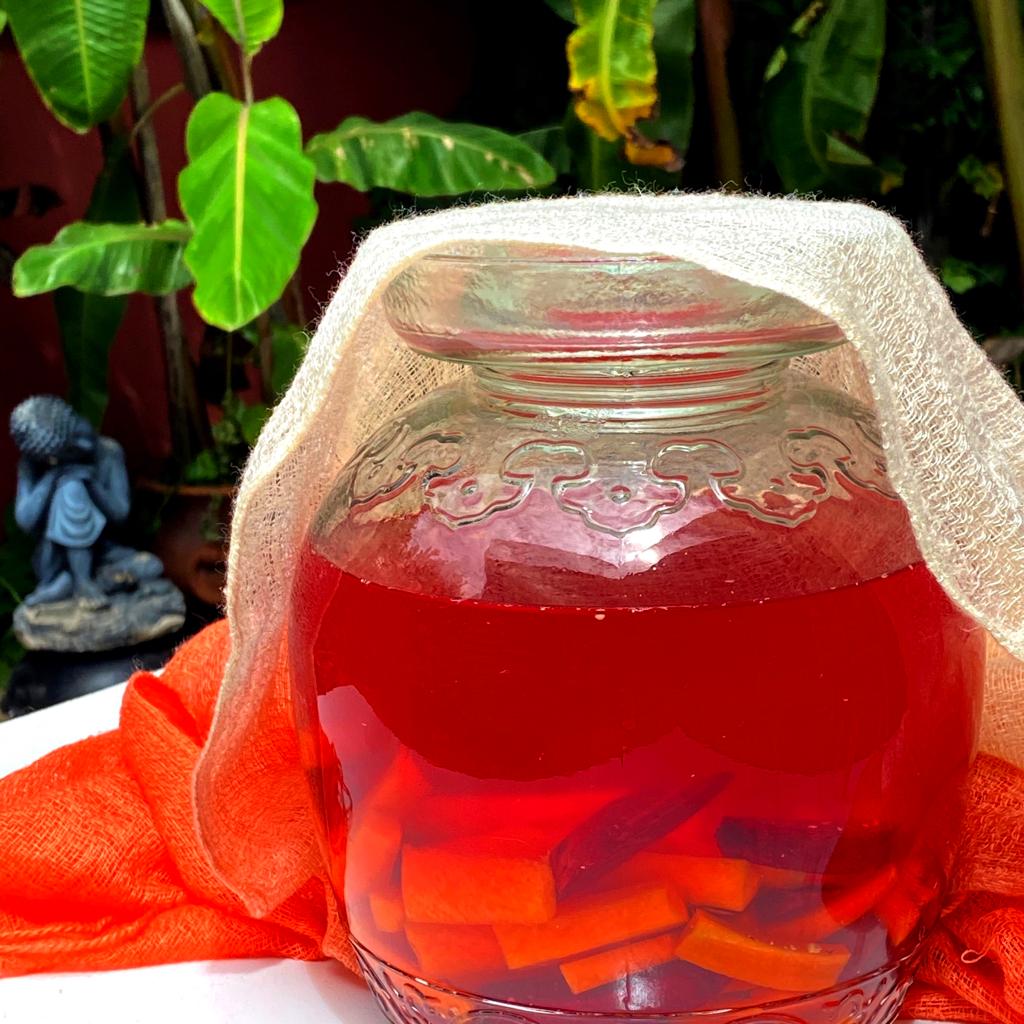 Image: Kanji is a cooling probiotic drink made from beetroots and carrots
Summer may almost be over (cue *teary eyes*) but hopefully the warmer weather will linger well into the first month of autumn. This time of the year permits us to savour summer's many bounties, whether that be the longer days (though they are becoming shorter as we tilt further away from the sun), the fresh fruits (plums, nectarines and peaches are still in the market), picnicking or entertaining outdoors and swimming in various bodies of water to cool off. 
Most parts of India experience harsh summers and the heat ranges from sweltering, highly humid or searingly dry heat, all of which are pleasant experiences when you throw in a population of 1.1 billion!  These extreme conditions have resulted in creative ways to stay cool in terms of architecture, fashion and diet. 
I was smart enough to backpack across five Indian states in the month of April, at a time when the summer heat was cranked up enough to risk burning your feet if you decided to go anywhere barefoot (I visited a lot of temples). The states I travelled across were Uttar Pradesh, Madhya Pradesh, West Bengal, Odisha and Bihar.  All of them were exceptionally hot (save for my time at the hill station Darjeeling).  During my travels, eating food was not nearly as important as staying hydrated and even water alone could not quench my thirst.  On the hottest of days, I can clearly recall the refreshing feeling of a cooling drink as I pressed the glass/carton to my burning cheeks before the contents slid down my throat. 
Here are our favourite summer coolers that you can try out when the mercury skyrockets:


Coconut Water - Mother nature's juice is a no-brainer really.  The water of the coconut is naturally hydrating because it contains electrolytes.  It is nutritious and contains antioxidants and is best enjoyed fresh but for those of us living in metropolitan cities without a coconut tree in sight, the carton will have to suffice (*sigh*)





Jaljeera - Cumin water may not sound like your go-to on a hot day but this drink is extremely refreshing due the mixture of both fresh and dry spices and the fact that it aids with digestion (helpful when it is boiling and your insides are feeling weighed down). The tanginess comes from tamarind pulp and lemon, the freshness from spices like coriander, mint and ginger and sweetness from a dash of sugar. You can easily prepare this at home and

our recipe

can guide you.





Lassi - a yoghurt drink that is mixed with cold water to thin it and is unbelievably refreshing.

Our recipe

allows you to create four variations and my favourite without a doubt is mango.  You can make this yourself quite easily but if you are unable to, your local indian grocer will have ready-made cartons that you can buy and pack for a hot day ahead.


Image: Salted lassi



Nimboo Pani - This is like your homemade lemonade minus the fizz and with a dash of

kala namak

(literally black salt, it is a type of rock salt) for that extra kick.  Nimboo Pani is not as sweet as normal lemonade and has the perfect balance of citrusy, tangy and sour flavours but is also very light.  In India, small limes are used - they are more fragrant and tangy than our yellow lemons.





Kanji

- This beautiful magenta-coloured drink serves as a probiotic and aids with digestion. The colour comes from the use of beetroot and carrots which are fermented in water until the water develops a tangy flavour. You can then refrigerate the liquid and use the vegetables in a curry.





Sol Kadi

- Hailing from the Konkan region is this savoury and cooling drink served with most restaurant meals. It is made from the kokum fruit, an ingredient that is dried and used in Goan curries to add a sourish taste.


Image: Ingredients for preparing sol kadi



Falooda

- Lastly our favourite is more like a meal, this traditional dessert is similar to a milkshake that has crossed paths with bubble tea. 

Enriched with a velvety rose syrup and sweet basil seeds, this is a drink that satisfies the body and soul.  Serve as a pick me up on a hot day when you are not in the mood for a warm meal.
---
---