Indian Festivals: Navratri or Durga Puja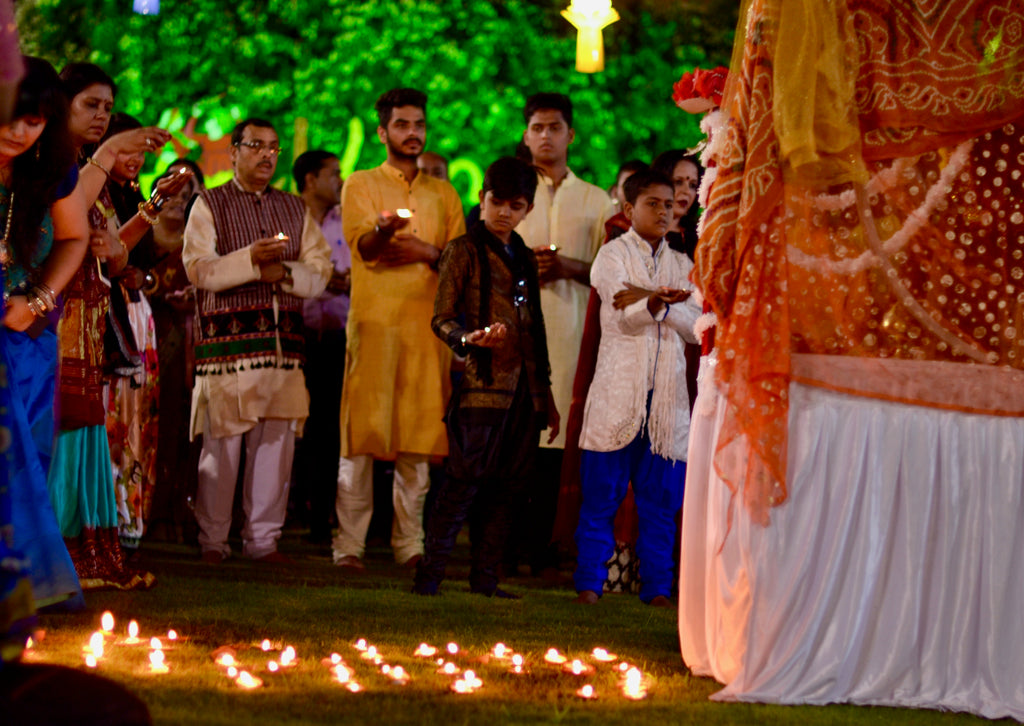 If nine days of continuous dancing, worshipping, indulging and partying doesn't appeal to you, then I would strongly advise against heading to India during the months of September and October, for you are bound to catch the contagious fever that sweeps through the nation during this time.
Navratri in Sanskrit, means 'nine nights' ('nava' is 'nine' and 'ratri' is 'nights') and the festival goes exactly for that duration. It is dedicated to the Goddess Durga (also known as Maa Durga)and the nine avatars (forms) which she manifests herself. Each night celebrates one of her forms. During this time, devotees come together to fast, worship and celebrate the different forms of the devi (female god) and her victory over the demon Mahishasur. The demon represents evil, ego, darkness, laziness and other negative qualities and Goddess Durga is said to have battled him for nine days. The tenth day of Navratri is called Vijay Dashmi, meaning 'victory' - it marks the day that the Goddess Durga slays the demon and, signifies the triumph of good over evil. Navratri is celebrated across India under different names - in the east, it is known as Durga Puja, in Tamil Nadu, as Golu.
I was working in Ahmedabad, the capital city of the west Indian state Gujarat, during the time of Navratri, and was very much unaware of just how grandly this festival is celebrated. Prior to the first day of celebrations, large, unoccupied and often dusty outdoors spaces would be transformed into decorated outdoor party grounds with large tents, booming speakers and colourful lights. At these venues, the Garba, a famous traditional dance from Gujarat, would take place at night, after conducting a special puja (prayer ceremony). The garba is a group dance, with complicated steps danced in sync whilst rotating in a circle. It is energetic, loud and hypnotising to watch. Sometimes, garba is mixed with another traditional dance form called dandiya raas, involving the use of dandiyas,  which are decked-out drum sticks held by the dancers and struck against each other as they dance. Each neighbourhood, school, workplace and community hosts their own garba nights, pumping out tunes until the wee hours of the morning.
My first attempt at garba was at a local party just across the road from where I was staying. I was welcomed enthusiastically as the token NRI* and expected to keep up with what seemed like very advanced garba steps. I soon learned that garba starts of with more subdued music and steps alike, and then picks up the pace as the night goes on. I had joined midway through the dance, and the steps were in fact far simpler than what would soon be taking place. I struggled with the unfamiliar rhythm and marvelled at the ease with which small children were able to master the steps. It is common for children and teens (and adults too!) to spend weeks learning the coolest moves in preparation for Navratri. People even attend garba classes to ensure that their garba is on fleek during this season.
The garba outfits are patterned, glittery, sparkly, colourful and just gorgeous to look at!
Navratri Vrat (The Navratri Fast)
During Navrati, many people keep vrat (fast), and only certain foods can be consumed. I don't really see it as fasting, but more as 'substituting' as the foods eaten are still delicious and abundant! The reasons for fasting are more scientific than religious. Navratri falls during the seasonal change - from monsoons to winter. It is a time when your body tends to be low in immunity, and so a clean diet helps to purify and strengthen it from within.
Fasting varies according to different traditions and I don't want to go into the particulars of what is and isn't consumed. Speaking very generally, those who keep the Navratri fast tend to follow a sattvic diet.
During this time, devotees avoid grains like those of wheat and rice, which means no rotis or parathas or biryanis! Instead of wheat flour, buckwheat flour can be used and instead of rice, sabudana (sago) works well. Fruit consumption is encouraged during this time, and some people follow a fruit-based throughout the nine days. Heavier vegetables like sweet potato, colocasia roots and yam are also consumed widely. Spices are used in less quantities, especially those which have a more 'heaty' elements and, desi ghee instead of oil is used to prepare meals. Lentils are avoided as is garlic and onion. Anything that is not vegetarian is not consumed during Navratri.
Fasting and feasting co-exist during this auspicious time and Sabudana vada (deep fried sago patties, pictured below), chaats**, pakores, samosas (click here for our samosa recipe) and poori sabzi (deep fried flat bread accompanied by a spicy vegetable) are just some of my favourite snacks to enjoy! Garba participants obviously need a lot of energy to keep up the lively dancing, and they too munch on freshly prepared snacks throughout the night.
Image: @cubesandjuliennes
What is your favourite Navratri food or experience? Comment below and let us know!
I would like to wish all those celebrating, a very Happy Navratri 2018!
*Non Resident of India - a term used to describe people of Indian origin who have settled abroad.
** Click here for a comprehensive guide to chaats
---
---