Indian Chinese Cuisine & Its Rise to Popularity in India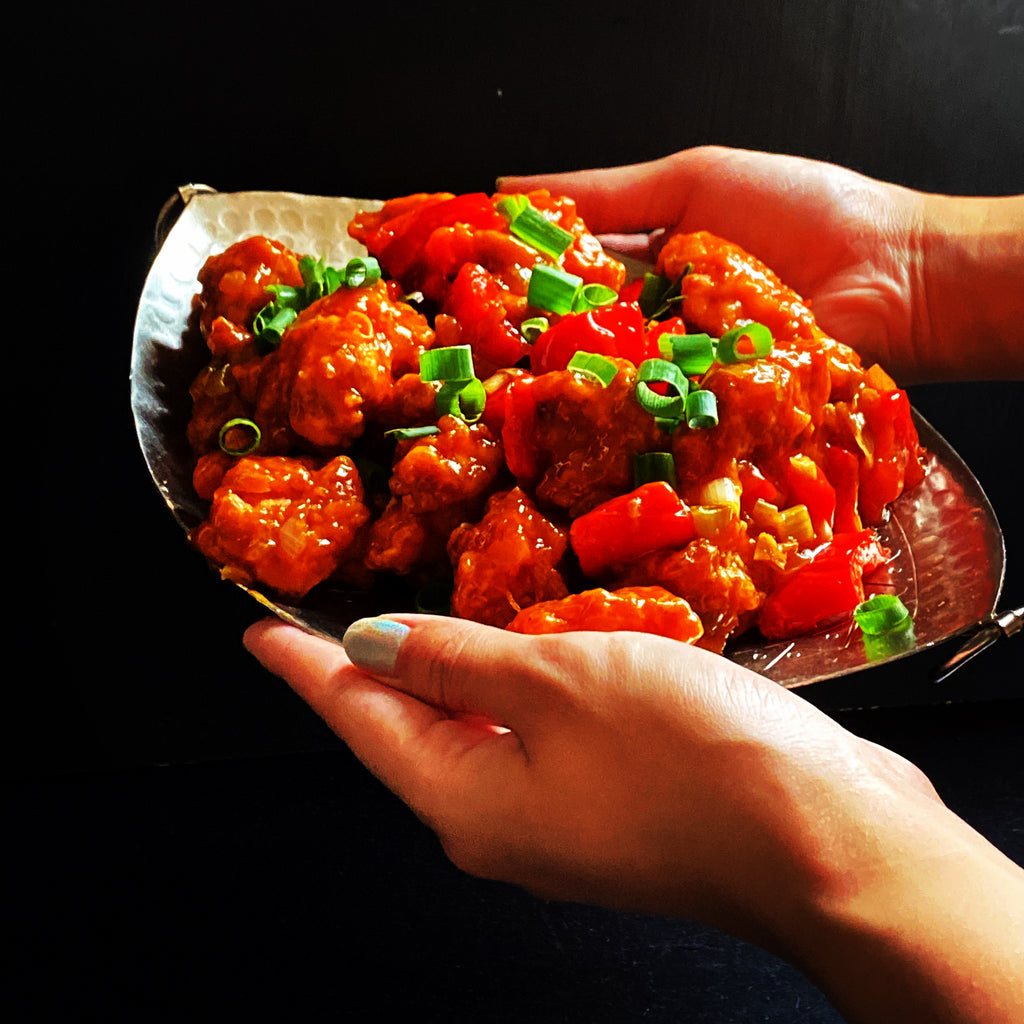 China and India are the world's first, and second largest populations respectively. These nations share a hotly-disputed border, located at the north-most point of India with tensions and skirmishes taking place in mid-2020. I have never been to China,  but I assume that, much like India, it is a diverse nation with many cultures, languages and traditions developing from a history that goes back to ancient times.
It can go without saying that in many parts of India, the most popular 'foreign' cuisine is that of Chinese cuisine. Street stalls, dhabas and even fancy restaurants boast an array of finger-licking 'Chinese' dishes that are increasingly popular with India's younger generation. These so-called 'Chinese' dishes look, smell and taste very different from the western understanding of Chinese food because they are essentially a fusion of the popular base ingredients in Chinese cooking with the spicy and complex flavours of Indian food added in. The term 'Indian Chinese' or 'Indo-Chinese' therefore refers to the adaptation of specific Chinese dishes to cater to the average Indian palate that is easily tempted by spicy foods. 
This fusion has its origins in the 18th century and to British India's then capital city, Calcutta, located in the east of India. Many members of the Hakka Chinese community migrated from China to Calcutta and established themselves in the community setting up thriving enterprises. They were silk traders, dentists, leather tannery owners and shoe shop owners. Their involvement in the community was integral in setting up India's first Chinatown and more importantly, setting the culinary foundations for what would become India's favourite cuisine. 
Adapting Cuisines 
The first Hakka Chinese restaurateurs would have recognised the importance of fresh and ground spices in Indian cuisine. So they took their traditional elements of Chinese cooking and modified the sauces to incorporate essential Indian ingredients like chilli, ginger and garlic and spices in general. In Indo-Chinese cuisine, use of condiments such as that of cumin seeds, coriander seeds and turmeric is common and not authentic to Chinese cuisine. 
Soon enough, restaurants serving this modified cuisine became widespread across Calcutta and infiltrated to other cities and regions in India. The cuisine's popularity can be attributed to the creation of food with familiar flavours/sensations but prepared in an entirely different way. The versatility of the ingredients meant that Indo-Chinese dishes were easily adapted to the large vegetarian population. 
Legend tells of Nelson Wang, an Indian chef of Chinese Hakka descent who is credited for inventing the Manchurian preparation of cooking in the 1970s. Mr Wang was a caterer at the Cricket Club of India in Bombay and was asked by a customer to create an off-the-menu dish. He obliged and cut up cubes of chicken, coated it in cornflour, deep-fried it and added it to a sauce cooked up with garlic, ginger and chilli and then finished off with soy sauce and vinegar and thickened again with cornstarch. The dish was a major hit and not long after, Mr Wang went on to open the restaurant China Garden in Bombay before branching out to other cities across India. 
Many Indians perceive Indo-Chinese food as authentic Chinese food, and are often surprised (and perhaps disappointed) when they experience 'real' Chinese cuisine which is usually a lot healthier, at times bland and usually meat-focused. The Indian diaspora has acknowledged the popularity of this unique hybrid cuisine and access to Indo-Chinese food is available outside of India where large communities of Indians reside. This is made possible by the demand of nostalgic Indians abroad who crave the simplicity and spiciness of their favourite 'foreign' cuisine.
The food fusion continues to evolve to this day with the creation of dishes like Schezwan dosa, chilli idli and Chinese bhel. This is a testament to both the popularity of Indo-Chinese cuisine and its ability to adapt to the local cuisine. 
Top Indian Chinese Dishes
Some Indian restaurants have a section of their menu dedicated to Indian Chinese, and next time you go to your local Indian restaurant, you can check it out. 
I, along with a dear friend, went to Amaravathi Restaurant in Harris Park (known as Sydney's Little India) and we ordered Dry Chicken Manchurian, Vegetable Chop Suey and Schezwan Egg Fried Rice. We also ordered plain paper dosa for good measure. The food took me back to my time in Delhi, when my housemates and I would finish our groceries after a day at the office and just outside the grocery store would be numerous street food stalls, some of which would sell Indo-Chinese items. We would munch on the likes of Hakka Noodles and Manchurian as a quick evening snack before heading home to prepare dinner. 
Chop Suey - Also called American Chop Suey, this is a mild dish that brings together noodles that are fried until they are crunchy and then topped with a thickened sauce made of cornstarch and thinly sliced vegetables. 


PC: Shubnam Jamwal @pahadi_foodie


Sweet Corn Soup - A mildly-spiced vegetable soup that gets its sweetness from the addition of corn kernels and is tempered by sourness of the vinegar and saltiness of the soy sauce. 
Manchurian (cover image) - Much can be said about the Manchurian style of cooking, which draws comparison to the deep-fried Indian snack

pakora

 or bhajia. Pieces of meat, seafood or vegetable are battered and then fried in a brownish-red sauce consisting of ginger, garlic, onion and chilli to which soy sauce and vinegar are also added. Popular vegetarian variations include

paneer

(Indian cottage cheese) and

gobi

(cauliflower) Manchurian (the latter being one of my favourites). You can order this dish dry (the sauce is reduced) or wet (a thickened gravy). 
Chow Mein - Thin noodles stir-fried with finely chopped veggies like capsicum, carrots and cabbage. The sauce that brings this together is a carefully balanced combination of contrasting flavours such as sourness from vinegar, saltiness from the soy sauce and spiciness from the fresh green chillies and pepper.
Hakka Noodles - Similar to Chow Mein above in terms of the ingredients and seasoning used.  The 'Hakka' noodle is even available at Indian grocery stores. 

PC: @flavourfulfoodz


Schezwan Rice - Schezwan refers to the spicy sauce made from dried red chillies soaked and then cooked in a paste of ginger, garlic and onions to which vinegar and soy sauce is added. It should probably read Sichuan to correspond with the landlocked province located in south-west China and famous for producing peppercorns. Cuisine from the Sichuan province is noted for pungent flavours and it is common for spices like garlic, ginger, chilli peppers and star anise to be used in the preparation of dishes. 


PC: Richa Bhatia @i_got_hangryy

References:
https://indo-europeanfoods.com/the-history-of-indo-chinese-food/#:~:text=Indo%2D%20Chinese%20food%20developed%20through,actually%20dates%20back%20to%201778

.

https://food52.com/blog/18147-the-sour-spicy-fusion-food-that-s-wildly-popular-in-india-coming-to-a-kitchen-near-you
---
---